1988

:

Thomas W. Chambers, P.Eng., FEC, FGC (Hon.)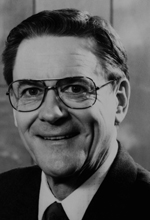 Tom Chambers was born in Port Arthur, Ont. and graduated from the University of Toronto in 1952 with a bachelor of applied science degree in mining engineering. Upon graduation, he took a position with Shell Oil Company and worked as a petroleum engineer and operations supervisor in oilfields throughout Alberta and Saskatchewan.
He has been a member of APEGGA since 1957 and served the association in a number of capacities. He became chair of the membership committee in the mid-60s and served on council (1972-73). He later served as first vice-president (1987) and president (1988).
In 1978 he was awarded the APEGGA Special Award for his outstanding contributions to society and was awarded Honorary Life Membership in 1989. He was named a fellow of Engineers Canada in 2009 and an honorary fellow of Geoscientists Canada in 2013.
Chambers served as the MLA for Edmonton-Calder (1971-86) and as Minister of Housing and Public Works and later Public Works, Supply and Services (1978-86). He was also chair of the Alberta Housing Corporation and the Alberta Home Mortgage Corporation. Chambers' political career included involvement with the construction of the 1988 Calgary Winter Olympics facilities.
Chambers served on the board of directors and management committee of Syncrude Canada Ltd. during the construction phase (1975-78). He was founder, president and CEO of Chambers Engineering Ltd., a consulting firm dedicated to petroleum production engineering, until his retirement in 1996.
Chambers established a scholarship fund for University of Alberta second and third year engineering students (1988-89). Since then, several annual scholarships of $1,500 each have been awarded in his name.
He has served on the board of directors of a number of organizations and is currently a director of Torex Resources Inc.