1982

:

William L. Fraser, P.Eng., FEC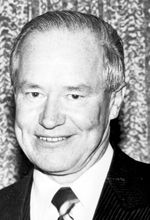 William Fraser was born in Calgary and graduated with a B.Sc. in electrical engineering in 1953 from the University of British Columbia.
His professional career spanned almost four decades and his vast experience covered electrical utility planning, engineering and operation, and international contract negotiations.
Fraser's career began with Calgary Power Limited (now TransAlta Utilities) and in 1980 he was appointed senior vice-president of resource planning. He served as president of TransAlta Technologies Inc. and as vice-president of INTENCO Energy Consultants.
Fraser served APEGGA on numerous committees, boards and task forces. He had terms as vice-president (1981), president (1982) and was awarded Honorary Life Membership in 1983.
He served on the task force that reviewed the Alberta Society of Engineering Technologists' (now the Association of Science and Engineering Technology Professionals of Alberta) application for registration under The Professional and Occupational Associations Registration Act (1992).
For two terms (1981 and 1994) he was Alberta director of the Canadian Council of Professional Engineers (now Engineers Canada). He was honoured for his service to APEGGA with the L.C. Charlesworth Professional Service Award in 1995. In 2009, he was named a fellow of Engineers Canada.
Fraser was the director of the Canadian Nuclear Association and Northwest Electric Light and Power Association, chair of the Canadian Electrical Association, Canadian Major Projects Association and the Canadian Committee on Asia Pacific Power Development. He was an engineering consultant in Victoria, B.C. before he died in 2009.