1979

:

Roy O. Lindseth, CM, P.Geoph., FGC, FEC (Hon.)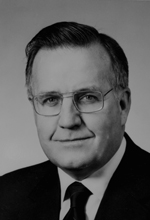 Roy Lindseth was born in Calgary and began his career in 1944 with the United Geophysical Company. He went on assignments to the U.S., Canada and South America. Until his retirement from geophysical practice at the end of 1991 he was a well-known advisor on petroleum resource development in many countries.
As a geophysicist, he pioneered work in digital signal processing. He is the inventor of seismic inversion and developed automated techniques to aid in the interpretation of subsurface lithology for delineation of hydrocarbon reservoirs. His book on digital signal processing was a basic text for many years. For this, he was made a fellow of the Royal Society of Canada in 1978.
Lindseth combined a strong entrepreneurial bent with his scientific activities. He returned to Calgary in 1991 after leaving a post with Chevron Venezuela to found EDP Engineering Data Processors Ltd., which installed one of the first large scientific computer systems in Canada. EDP evolved into the Teknica Corporation, a wholly owned petroleum service and software development bureau with major computer centres in Calgary and Houston. In 1992, he was appointed president of Canada's National High Performance Computing Centre.
In 1994 he opened TransCanada Pipelines' first overseas venture office in Bogota, Colombia. He later moved to Caracas in 1997 to establish a TransCanada operation in Venezuela.
Lindseth served on numerous boards and professional organizations and has been honoured with many awards for his outstanding service. He served on APEGGA council, was first vice-president (1978), elected to president (1979) and was bestowed Honorary Life Membership (1980).
In 1978, the University of Calgary bestowed upon him an honorary doctor of laws degree. In 1996 he was appointed member of the Order of Canada.In 2009, he was named an honorary fellow of Engineers Canada and in 2013 he was named a fellow of Geoscientists Canada.
He is currently the president of the Venezuelan-Canadian Chamber of Commerce.