1978

:

Gerald (Gerry) J. Maier, OC, P.Eng., CD, LLD, FCAE, FEC, FGC (Hon.)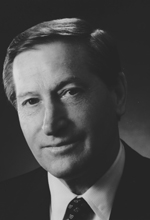 Gerry Maier was born in Regina and attended Notre Dame College (Wilcox) and the University of Manitoba before receiving a B.Sc. in petroleum engineering from the University of Alberta. He later attended the University of Western Ontario's management program. During his career, he worked in the petroleum and mining industries in Canada, the U.S., Australia and the U.K. He was also responsible for petroleum operations in Africa, the U.A.E. and Southeast Asia. He was head of Conoco North Sea in London and later chair and CEO of Hudson's Bay Oil and Gas Co. Ltd.
Maier went on to become president and CEO of Bow Valley Industries Ltd. in 1982. He was president and CEO of TransCanada PipeLines from 1985-94 becoming chair in 1992 and served in that capacity until 1998 when he became chair emeritus for a year. Under his leadership TransCanada PipeLines increased the capacity of its Canadian mainline transmission system, relocated its head office to Calgary from Toronto, spent $4 billion on mainline expansion – doubling the capacity of the system and constructing a major new gas pipeline into the northeast U.S. – and merged with Nova Corporation.
From 1998-2000, he was vice-chair of NOVA Chemicals Corporation. He has been the chair of Granmar Investments Ltd. since 1986 and is a director of GEM Inc. and General Magnetic International Inc. He was previously a board director with BCE Inc., Bank of Nova Scotia, DuPont Canada Inc., NOVA Corporation, Petro-Canada, TransAlta Corporation and Willbros Group, Inc.
Maier continues to serve the community in a number of capacities. He was chair of the Board of Regents of Notre Dame College for over ten years before being named chancellor in 2009. He was inaugural board chair of the Van Horne Institute (1992-2000) and has served as an officer, director and volunteer for numerous professional, civic and charitable organizations including the Canadian Academy of Engineering (fellow), the King's Own Calgary Regiment (honorary colonel), chair of the Canadian National Committee of the World Petroleum Congress, chair of the Canadian Petroleum Hall of Fame Society, deputy chair of the Council for Canadian Unity and chair of the Christian History Project.
Elected president of The Association of Professional Engineers, Geologists and Geophysicists of Alberta (now The Association of Professional Engineers and Geoscientists of Alberta) in 1978, Maier received Honorary Life Membership in 1979 and the Centennial Leadership Award in 1994. His extensive list of honours and awards includes:
honorary fellow, Geoscientists Canada (2013)

Queen's Diamond Jubilee Medal (2012)
fellow, Engineers Canada (2009)
member, Legion of Honour, Society Petroleum of Engineers – Canadian Section (2006)
honorary doctorate of laws, University of Calgary (2005)
Alberta Centennial Medal (2005)
Officer, Order of Canada (2004)
inaugural Canadian Engineering Leader Award, University of Calgary Faculty of Engineering (2003)
Queen's Golden Jubilee Commemorative Medal (2002)
Resource Man of the Year, Alberta Chamber of Resources (1999)
inductee, Canadian Petroleum Hall of Fame (1999)
Canadian Business Leader Award, University of Alberta (1999)
honorary doctorate of laws, University of Alberta (1999)
Hal Godwin Award for Excellence in International Business, University of Calgary (1999)
Canadian Forces Decoration (1996)
member, first group of 16 inductees to be honoured on the alumni wall of recognition, University of Alberta (1994)
inaugural Distinguished Alumni Award, University of Alberta (1992)
Gold Medal, Canadian Council of Professional Engineers (now Engineers Canada) (1990)