1976

:

Elmer M. Berlie, P.Eng., FEC, FGC (Hon.)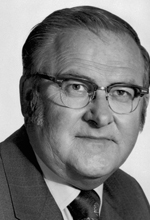 Elmer Berlie was born in Saskatchewan in 1924, and graduated from Prince Albert Collegiate Institute in 1943. After serving in the military, he received a BE degree in mechanical engineering from the University of Saskatchewan in 1949. In 1974 he obtained a BA in economics from the University of Calgary.
He had more than 50 years of experience in the oil and gas industry covering engineering, management and operations of processing and production facilities. This included 12 years in environmental consulting with Western Research & Development Ltd. mainly related to environmental impact assessment for petrochemical and sour gas plant permit applications. His western research team performed the first environmental impact assessment in Alberta.
Berlie retired from Bow Valley Resource Services, located in Calgary, in 1986 and commenced consulting work as Berlie Consulting Services in Sidney, B.C. He was active offering training courses and environmental and expert witness consulting related to sour oil and gas operations and sulphur recovery until 2001.
Elmer Berlie joined APEGA in 1953 and was involved in a number of committees. He was elected to council (1970) and served as first vice-president (1975-76) and president (1976-77). He was awarded Honorary Life Membership (1977) and received the L.C. Charlesworth Professional Service Award (1980). He was named a fellow of Engineers Canada in 2009 and in 2013 he was named an honorary fellow of Geoscientists Canada.
Berlie was active in many technical and education groups. He was past chair, National Association of Corrosion Engineers, Calgary section; past-president, Canadian Natural Gas Processors Association; past-president, Pacific Northwest International Section of the Air & Waste Management Association (AWMA); and general conference chair for AWMA's 84th annual meeting and exhibition in Vancouver in 2001. This was the largest conference ever held in AWMA's 100-year history.
He was also active for many years in development and presentation of training courses related to the oil and gas industry for Petroleum Industry Training Service. As a member of the Southern Alberta Petrochemical Safety Council, he worked with the committee that directed and produced the sour gas training film Three Minutes to Live for the Alberta Workers' Compensation Board. This film has been distributed around the world in over 20 languages.
Elmer Berlie died on January 14, 2014, just before his 90th birthday.