1975

:

Frank K. Spragins, P.Eng.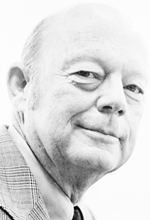 A native of Mississippi, Frank Spragins received a bachelor of science degree in electrical engineering from Rice University in 1938. He spent several years working in the southern oil industry before coming to Canada in 1942 as a petroleum explorationist for Imperial Oil in Alberta, Saskatchewan and the Northwest Territories.
In 1945 he came to Edmonton, serving four years as a member of the geophysical team behind the Leduc, Alta. oil discovery. He became manager of Imperial Oil's Athabasca tar sands in 1959 and in 1965 was appointed president of Syncrude Canada where he oversaw the development of the Syncrude extraction plant at Fort McMurray, Alta. From 1975 until his retirement in 1977 he chaired the company's board of directors and later joined the Alberta Oil Sands Technology and Research Authority.
A member of council from 1971-77, Spragins was elected association vice-president in 1974 and president in 1975. He served as director of the Alberta and Northwest Chamber of Mines, Oils and Resources; the Technical Service Council of Canada, and Alberta Newstart Inc. He was also vice-president of the Edmonton Chamber of Commerce and held executive positions with the Canadian Chamber of Commerce and the National Northern Development Conferences.
In addition, he was a member of the University of Alberta senate and a lay member of the Alberta College of Physicians and Surgeons council. In 1975 he was named Oilweek Magazine's Oilman of the Year and the following year he received the APEGGA Centennial Leadership Award and Honorary Life Membership.
Spragins is widely remembered for his contributions to major oil discoveries and in Alberta for guiding Syncrude through turbulent times. During his work in the Northwest Territories he contributed substantially to the design of exploration equipment and to the development of cold weather techniques which enables year-round oil exploration in Canada. Spragins passed away in 1978.