1974

:

Akira (Aki) Nawata, P.Eng., FEC, FGC (Hon.)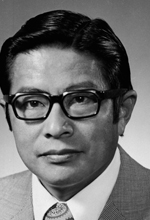 Aki Nawata was born in Vancouver and graduated from the University of Alberta in 1954 with a bachelor of science degree with distinction in civil engineering.
He was employed with the Alberta Department of Highways in the mid-50s as a bridge design engineer and later resident bridge engineer. He joined Stanley Associates Engineering Ltd. in 1956 as design engineer and until 1968 was chief structural and transportation engineer. He also served as vice-president of the firm.
Nawata served on the Edmonton branch executive of the Engineering Institute of Canada until 1970. He served with distinction on many APEGGA committees including the discipline committee, the APEGGA/ACA/AAA design and construction committee, the board of engineering education and the honours and awards committee.
He was a member of council (1967-70), second vice-president (1972-73), first vice-president (1973-74) and president (1974-75). Nawata was subsequently awarded Honorary Life Membership. In 2009, he was named an honorary fellow of Engineers Canada.
He is currently the president of Nawata & Associates Ltd., an engineering consulting firm located in Edmonton.