1970

:

W.A.B. (Al) Saunders, P.Eng.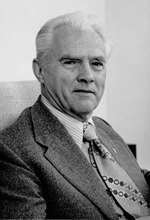 Al Saunders earned his diploma in technology for geology and surveying from the Provincial Institute of Technology, now the Southern Alberta Institute of Technology (SAIT), in 1935.
He later earned his bachelor's and master's degrees in 1941 and 1951, respectively, from the University of New Brunswick. He was also a graduate of the Banff School of Advanced Management.
He served with the Royal Canadian Air Force from 1941-45, during which time he was on loan to British Air Commission Douglas Aircraft plant in Santa Monica, Calif., and served as a flying officer. After World War II he returned to Calgary and taught aeronautics at SAIT.
After completing his master's degree he became the institute's vice-principal. In 1962 he moved to Edmonton as president of the Northern Alberta Institute of Technology and in 1971 became deputy minister of Public Works for the Alberta government.
Saunders' service to the association was extensive. He served as a member and chair of several committees, from regulatory to professional affairs to membership. Elected to council, he went on to serve as vice-president (1969-70) and president (1970-71). He was subsequently awarded Honorary Life Membership.
His commitment to the community included the YMCA, senate of the University of Alberta and associate fellow of the Canadian Aeronautical and Space Institute. After he retired in Edmonton, Saunders served on the board of the Alberta Home Mortgage Corporation. He passed away in December 1998.