1965

:

Dr. Ralph McManus, P.Eng., FCAE, FEC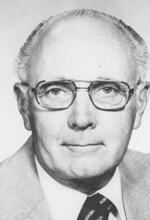 Dr. Ralph McManus graduated from the University of Alberta in 1942 with a bachelor's degree in civil engineering. He earned his PhD in 1952 at the University of Illinois at Urbana.
In 1957 he entered full-time consulting and formed a company specializing in structures and bridges, T. Lamb, McManus & Associates, where he was resident principal in the firm. In 1959, he became the president of McManus Engineering Ltd. in Edmonton.
McManus has been a member of the Association of Professional Engineers of Alberta (APEA; now The Association of Professional Engineers, Geologists and Geophysicists of Alberta) since 1946 and was elected to council in 1957.
He served as Engineering Institute of Canada representative (1960-63) and University of Alberta engineering faculty council representative (1965-66). He was elected the Association's vice-president (1964-65) and president (1965-66). He was subsequently awarded Honorary Life Membership and he received the Centennial Leadership Award in 1977.
He also served as Alberta director (1971-74), member of the executive (1974-75) and president of the Canadian Council of Professional Engineers (now Engineers Canada) from 1977-78. In 1981 he was made a fellow of the CanadianAcademy of Engineering and in 2009 he was named a fellow of Engineers Canada.
In addition, for several years he served as the technical representative for the University of Alberta on the Canadian Standards Association. McManus died in March 2012 at the age of 93.