1964

:

Douglas R. Craig, P.Eng.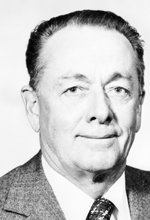 Born in Calgary in 1919, Douglas Craig worked for the Canadian Bank of Commerce from 1936-40. Following overseas service as a navigator with the Royal Canadian Air Force, he worked as a surveyor for the provincial Department of Transport (1947) and the Alberta Research Council's bitumount oil sands project (1948). He then attended the University of Alberta, graduating in 1949 with a B.Sc. in chemical engineering.
Craig joined the staff of the Petroleum and Natural Gas Conservation Board in Calgary upon graduation, spending two years in oil field operations. He was a sessional lecturer in 1951-52 in petroleum and chemical engineering at the University of Alberta.
A member of the Association of Professional Engineers of Alberta (APEA; now The Association of Professional Engineers, Geologists and Geophysicists of Alberta) since 1952, his contribution to the association encompassed serving on the discipline committee, councillor (1960-63) and on the executive committee as vice-president (1963-64) and president (1964-65). He was subsequently granted Honorary Life Membership in the Assocation.
Craig retired in 1977. He passed away in September, 1991 at the age of 72.