1962

:

Norman J. Allison, P.Eng.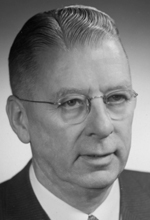 A native of Paisley, Scotland, Norman Allison spent the early part of his career in the shipbuilding industry and during the Second World War rose to the rank of commander in the Royal Indian Navy and was in charge of planning, construction, and operation of a base for the repair of landing craft.
Toward the end of the war, he worked with the production department of Imperial Oil in Calgary in 1948 and later joined Interprovincial Pipeline, eventually becoming manager of its western division.
Allison served as deputy registrar of the Association of Professional Engineers of Alberta (APEA; now The Association of Professional Engineers, Geologists and Geophysicists of Alberta) in 1958-59 and in 1959 was elected to council. He served as the association's vice-president for two years, prior to assuming the presidency in 1962. He was subsequently awarded Honorary Life Membership in the association.
He took early retirement from Interprovinical and then studied divinity, before becoming ordained as a minister in the Presbyterian Church of Canada. Allison served congregations in Whitehorse and in Kingston, Ont., where he subsequently retired. He passed away in October 1995.