1960

:

D.Carlton Jones, P.Eng.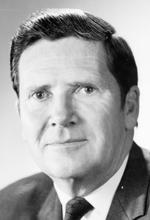 A native of Calgary, Carlton Jones attended the University of Alberta and then McGill University, graduating with a bachelor of engineering degree in 1937.
He worked briefly as a process engineer for Procter and Gamble in Hamilton, then returned to Calgary to teach drafting and aeronautical theory at the Provincial Institute of Technology and Art, where he had previously received a certificate in aeronautics.
During the Second World War he served as chief ground instructor at flying training schools in Lethbridge and High River, Alta.
For the next 36 years he was associated with the oil and gas industry in Calgary, joining the Canadian Western Natural Gas Company in 1946, then becoming a consulting engineer with the Denton Spencer Company in 1951.
From 1954-75 he held engineering and managerial positions with Hudson's Bay Oil and Gas Company Ltd., and retired as director and chair of the board. Soon afterwards he started his own consulting company, Carlton Management Resources Ltd.
Jones became a member of the Association of Professional Engineers of Alberta (APEA; now The Association of Professional Engineers, Geologists and Geophysicists of Alberta) in 1946, served on several committees, and was elected vice-president in 1959 and president the following year. He was subsequently awarded Honorary Life Membership in the association.
He also chaired the Calgary branch of the Engineering Institute of Canada and was active in several oil and gas industry associations, including the Canadian Petroleum Association, the Petroleum Recovery Research Institute and the Alberta Sulphur Research Institute.
He was a member of the Foothills Hospital management board, director of the Calgary Philharmonic Society and for several years served as vice-president and director of the Calgary YMCA.
In 1981 Jones was presented the association's Special Award in recognition of his outstanding contributions to society. He retired from consulting in 1982 and resided in Calgary until his passing in October 1998.