1958

:

George W. Govier, OC, P.Eng., FEC, FGC (Hon.)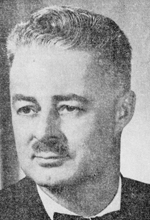 A native of Nanton, Alta., Dr. George Govier received his PhD in chemical engineering from the University of Michigan in 1948 after obtaining his bachelor's and master's degrees from the University of British Columbia and the University of Alberta, respectively.
From 1940-63 he was associated with the University of Alberta and became dean of engineering in 1960.
In 1962 he began a 16-year term as chair of the Alberta Oil and Gas Conservation Board, and for much of that period also served as part-time professor of engineering at the University of Calgary.
He took a two-year leave of absence from the board in 1975 to become Alberta's chief deputy minister of energy and natural resources. In 1978 he began his own resource management consulting firm, Govier Consulting Services Ltd.
Elected to council of the Association of Professional Engineers of Alberta (APEA; now The Association of Professional Engineers, Geologists and Geophysicists of Alberta) in 1951, Govier was elected association vice-president in 1957 and president in 1958.
He is also a past-president of the Canadian Institute of Mining, Metallurgy and Petroleum and a member of many other technical and professional associations including the Engineering Institute of Canada, the Chemical Institute of Canada and the American Institute of Chemical Engineering.
Among the numerous awards he has received are the Association's Honorary Life Membership in 1959, the Centennial Leadership Award in 1970 and the Canadian Council of Professional Engineers' (now Engineers Canada) Gold Medal in 1976.
He was named Oilweek Magazine's Oilman of the Year in 1978 and appointed an officer of the Order of Canada in 1982. In 2009, he was named a fellow of Engineers Canada. In 2013, he was named an honorary fellow of Geoscientists Canada and he was inducted into the Alberta Order of Excellence.
Govier is widely recognized as one of the chief architects of Alberta's petroleum industry. He played a key role in founding the Petroleum Recovery Institute. He has published more than 60 technical papers and is senior author of the engineering textbook The Flow of Complex Mixtures in Pipes. In 1999 Govier was inducted into the Canadian Petroleum Hall of Fame. He is now retired.