1945

:

James McMillan, P.Eng.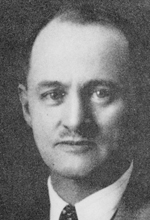 Born in Glasgow, Scotland, James McMillan served overseas during the First World War, then graduated from the University of Alberta in 1924 with a bachelor of science degree in electrical engineering. He joined the service department of Canadian Westinghouse Company in Hamilton, but returned west shortly afterwards to oversee the installation of auxiliary switching equipment for Edmonton Power.
In 1923 he joined Imperial Oil Ltd. in Calgary, serving as sales engineer before joining Calgary Power Ltd. in 1927. After four years working on electrical engineering projects, McMillan became purchasing agent. During his time with the company he also supervised construction of transmission lines, distribution systems, substations and switching structures. He retired in the early 1970s.
Elected to council of the Association of Professional Engineers of Alberta (APEA; now The Association of Professional Engineers, Geologists and Geophysicists of Alberta) in 1942, McMillan was elected association vice-president in 1944 and president in 1945. He also chaired the Calgary branch of the Engineering Institute of Canada, served as vice-president of the Canadian Red Cross Society Calgary branch and was a member of the Calgary Safety Council engineering committee. He passed away in Calgary in 1977.