1937

:

Charles E. Garnett, P.Eng.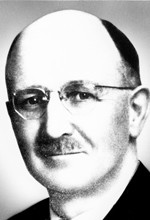 A native of Cheshire, England, Charles Garnett studied electrical engineering at the College of Technology in Manchester. He started out as an apprentice with British Westinghouse in 1906 and was recruited four years later by the company's Canadian division in Hamilton.
In 1914 he joined the Canadian Army, serving for two years in France and Belgium during the First World War. He then moved to Edmonton to work for Gorman's Ltd., an industrial engineering firm. In 1927 he bought the company.
During the Second World War, Garnett commanded a reserve squadron of electrical and mechanical engineers and later a reserve armored division. He attained the rank of lieutenant-colonel and was awarded the Canadian Forces Decoration. After the war, he founded the Edmonton Elevator Service and chaired the board of Great Northern Gas Utilities for 15 years.
Garnett was elected to council of the Association of Professional Engineers of Alberta (APEA; now The Association of Professional Engineers, Geologists and Geophysicists of Alberta) in 1936 and served as the association president in 1937.
He was also president of the Edmonton Chamber of Commerce; Edmonton Chamber of Mines and Resources; Edmonton Kiwanis Club; the Edmonton General Hospital Board and the Edmonton Industrial Development Board. In 1939 he was chair of the Engineering Institute of Canada and in 1940 chair of what is now the Canadian Institute of Mining, Metallurgy and Petroleum.
Garnett was made an honorary chief of the Alberta Cree Indians in 1932 and in 1959 was elected to a fellowship in the Royal Society for the encouragement of arts, manufacturers and commerce of London. He passed away in 1970.