1931

:

R.S. (Russell) Trowsdale, P.Eng.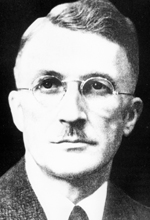 A native of Crapaud, P.E.I., Russell Trowsdale attended Prince of Wales College in Charlottetown and was hired in 1904 by the Robb Engineering Company of Amherst, N.S.
In 1909 he moved west and engaged in power plant construction and later sales for the company's Calgary branch. Three years later he joined the Canadian General Electric Company in Calgary, working as a sales engineer. By 1933 he had advanced to the post of district manager for Calgary and eastern British Columbia, a position he held until retiring in 1951.
Trowsdale was elected to council of the Association of Professional Engineers of Alberta (APEA; now The Association of Professional Engineers, Geologists and Geophysicists of Alberta) in 1922 and served the association for many years, including as representative on the faculty of engineering council at the University of Alberta. He was elected vice-president in 1924 and 1930 and president in 1931. He was subsequently awarded Honorary Life Membership.
Trowsdale served as chair of the Calgary branch of the Engineering Institute of Canada, president of the Calgary Downtown Kiwanis Club and was for many years on the board of governors of Mount RoyalCollege. Widely known throughout the Canadian electrical industry, Trowsdale was also a member of the Canadian Electrical Association and of several Calgary business clubs. He passed away in 1966.