1921

:

Robert A. Brown, P.Eng.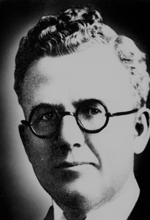 Born at Point Levis, Que., Robert Brown began his electrical career with Western Electric and Westinghouse Company in Pittsburgh and St. Louis.
He came to Calgary in 1906 as superintendent of North West Electric Company and in 1907 was hired as electrical superintendent of the City of Nelson, B.C., where he oversaw design and construction of the Bonnington Falls dam and power plant.
In 1911 he returned to Calgary to supervise the city's electric light department and later the street railway department. He retired from both positions in 1937 to form his own consulting practice which in 1941 became Brown, Moyer and Brown Ltd., Consulting Mechanical and Electrical Engineers.
One of nine charter members when the Association of Professional Engineers of Alberta (APEA; now The Association of Professional Engineers, Geologists and Geophysicists of Alberta) formed in 1920, Brown was elected second association president in 1921 after serving on council the previous year.
He was also a member of the senate and board of governors of the University of Alberta, and from 1926-46 was a member of the university's engineering examining board. Brown was a member of the Western Canadian Petroleum Association and for more than 25 years a member of the Calgary Board of Trade.
Although involved in electrical engineering for many years, Brown is best known for discovering oil in the TurnerValley in 1936, where 23 wells were drilled under his direction. He passed away in Calgary in 1948.