APEGA Teacher Professional Development Program
APEGA recognizes that teachers are key in the development of knowledge, skills, and attitudes crucial for our future professional engineers and professional geoscientists. We strive to provide training and resources to assist teachers in fostering a love of learning and creating real-world connections to curriculum.  
The APEGA Outreach team supports educators in connecting curriculum to engineering and geoscience by offering professional development opportunities, sharing curriculum design resources, and delivering sessions at teachers' conventions and staff training days.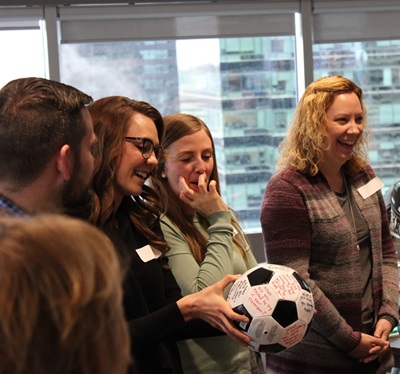 Join us this fall on Friday, September 23, and Friday, October 21, for a guided geoscience-themed walk in Calgary, Edmonton, or Medicine Hat, and learn to think like a geoscientist!
Sessions are open to all educators. The content in these sessions will be most relevant for educators teaching the Earth Science units in grades 3 and 7.
As part of the Rock & Fossil Clinic, the sessions on Friday, September 23, will also be open to university students and lifelong learners.
Recommended packing list for all guided walks
sun protection
sturdy footwear
backpack
comfortable clothing and extra layers*
water

packed lunch



snacks
notebook and a pen or pencil
*Guided walks will proceed rain or shine—please come prepared for changing weather conditions.
Upcoming Geoscience Walks
Date
Friday, September 23, 2022
Time
9:00 a.m. - 1:00 p.m.
Location
Nose Hill Park
Calgary, AB
Starting at the Edgemont Blvd. Parking Lot
Cost
FREE as part of APEGA's Rock & Fossil Clinic
Registration Deadline
Thursday, September 22, 2022 at 11:59 p.m.

Allow Dale Leckie to guide you to Alberta's most scenic sites. Leckie tells the intriguing story of Alberta's landscape evolution from Waterton Lakes National Park, to Dinosaur Provincial Park, into the Prairies, and across the North. With trips to Edmonton, Calgary, Crowsnest Pass, and Elk Island National Park, he takes you to explore volcanoes and glaciations long past.

Nose Hill Park is one of the best places to appreciate the geology of Calgary. This talk includes stops along well-travelled and not-so-well-travelled routes that the curious would be wise to see. Using eye-catching illustrations and photographs, Leckie blends storytelling with science, incorporating natural landscape beauty with art and history.

Lunch will not be provided. Please plan to bring your own packed lunch.

You will be directed to the 2022 APEGA Rock & Fossil Clinic registration form.

Please use this form to register for the guided walk in Nose Hill Park. This walk is being offered as a pre-event session as part of the Rock & Fossil Clinic.

About Dale Leckie, PhD

Dale Leckie, PhD, is a geologist who worked at the Geological Survey of Canada and as chief geologist in a large Canadian energy company. He has edited numerous books and published widely on the geology of western Canada. He is adjunct professor in the Geoscience Department at University of Calgary. Dale is recognized for his long-term contributions to geology and is an honorary member of Society for Sedimentary Geology (SEPM) and Canadian Society of Petroleum Geologists (CSPG). His most recent book, The Scenic Geology of Alberta: A Roadside Touring and Hiking Guide topped the best seller lists across the province all summer long. Dale's first book Rocks, Ridges, and Rivers: Geological Wonders of Banff, Yoho, and Jasper National Parks was highly successful best seller as well.

Date
Friday, September 23, 2022
Time
9:30 a.m. - 12:30 p.m.
Location

South Saskatchewan River Valley (north side)
Medicine Hat, AB (Redcliff District)
Starting at the parking lot at 1102 River Rd SW

Cost
FREE as part of APEGA's Rock & Fossil Clinic
Registration Deadline
Thursday, September 22, 2022 at 11:59 p.m.

This walk will be led by Drake Meili, Geoscience Interpreter at the MH Interpretive Program, and will feature the fantastic sights and stories of Medicine Hat's prehistoric past. Along the way, Drake will stop at important sites to show attendees how geoscientists interpret their surroundings to tell the story of past environments, and answer any questions attendees may have. The goal of the walk is to ensure every guest leaves with the knowledge and passion to explore their local landscapes.

The cliffs along these walking and biking trails feature the late cretaceous Foremost formation which is special to the Medicine Hat and Redcliff Area as it is rarely exposed at the surface in other locations in the province. The rocks of this formation were deposited around 75 million years ago and represent a transitional environment where streams carried sediments from the mountains in the west into the swamps, deltas, and shallow marine environments along the coast of the Western Interior Seaway. This formation is host to many fossils, including clam and oyster beds, dinosaurs such as pachycephalosaurids, petrified wood, and amber.

You will be directed to the 2022 APEGA Rock & Fossil Clinic registration form.

Please use this form to register for the guided walk in the South Saskatchewan River Valley. This walk is being offered as a pre-event session as part of the Rock & Fossil Clinic.

About Drake Meili

Drake Meili is an expert geological interpreter in the Medicine Hat community. He completed his B.Sc. Hons. in geology in 2019 and is now working on his M.Sc. thesis in environmental geochemistry. During his time at the University of Saskatchewan, Drake helped create a geology outreach program, spoke about rocks and fossils at science events, and taught first-year geology labs. He currently works as an interpreter with the Medicine Hat Interpretive Program at Police Point Park where he continues his passion for sharing his love of earth science with the community.

Date
Friday, October 21, 2022
Time
9:30 a.m. - 1:30 p.m.
Location
Edmonton River Valley
Edmonton, AB
Starting at the Walterdale Bridge
Cost
$20.00 + GST
Registration Deadline
Sunday, October 16, 2022 at 11:59 p.m.

Enjoy hiking inside Alberta's capital city and within Edmonton's world famous river valley. You will learn about the unique geological features exposed in the river valley and walk in the footsteps of the Indigenous Peoples who continue to visit this sacred place on Turtle Island for the last 10,000 years.


Your geo-adventure begins under the Walterdale Bridge near the North Saskatchewan River, which was was a previous glacial spillway, then to the historic site of Fort Edmonton IV, and then to the nearby sacred burial ground and holy Christian cemeteries near the Rossdale Power Plant. To show good intent and respect on our walk together, we will conduct a tobacco offering off of the Walterdale Bridge and conduct a smudging ceremony inside the sacred burial ground, and our travel path together will be in the shape of the Métis infinity symbol. Furthermore, we will explore and experience the Indigenous Art Park with its unique art installations that are all located on a traditional Métis river lot where the McDonald family lived for 34 years. Lastly, we will participate in an Indigenous sharing circle with an elder as they share stories of the land, culture, and wisdom. Our last task in our journey is to have lunch together on the land, amongst the Indigenous art, and surrounded with the grandfather spirit within the trees.


NOTE: There is some elevation gain on this tour, however, the majority of the trails are paved and make for an easy hike that is also attainable for anyone with reduced mobility.

Lunch will not be provided. Please plan to bring your own packed lunch.

About Keith Diakiw, P.Geo., CD

Keith Diakiw is a professional Métis geologist and owner/operator of Talking Rock Tours. Keith attended both the University of Lethbridge and the University of Alberta, where he successfully earned three bachelor degrees: a B.Sc. co-op in physical geography, a BA in anthropology/archaeology, and a B.Sc. specialization in geology. Overall, he possesses exploration and mining experience in metallurgical coal, thermal coal, conventional oil and gas, offshore oil and gas, and oil sands to date. Keith also joined the Royal Canadian Navy while attending the University of Alberta and became a qualified Naval Warfare Officer in 2005 and still enjoys serving as a reservist with H.M.C.S. Nonsuch.

Keith is a member of several professional organizations, including the Association of Professional Engineers and Geoscientists of Alberta, the Canadian Institute of Mining, Metallurgy, and Petroleum, the Canadian Society of Petroleum Geologists, and the Alberta Palaeontological Society.


---

Joining us on our Geoscience Walk is Elder Fernie Marty. Elder Fernie Marty was born on the Elizabeth Métis Settlement. He was raised in Cold Lake and attended the Beaver Crossing Day School from grades 1 to 3. Elder Fernie moved to Edmonton over 25 years ago to follow his children and to reconnect with members of his Papaschase family. He is the proud elder of the Papaschase First Nations and the elder of Sacred Heart Catholic Church of the First Peoples. He also gives his time, knowledge, and support to various organizations around the city of Edmonton. Elder Fernie will share his cultural knowledge with us and offer an Indigenous perspective of the landscape.
Interested in Learning More About Geoscience?
Join us for the 29th annual APEGA Rock & Fossil Clinic on Saturday, October 1, 2022!
---
Feedback from Past Participants
The topics were relevant. APEGA is on the cusp of emerging trends that educators need to be responsive to. –Elementary Educator
The hands-on activities are second to none. –Elementary Educator
The session is well thought for the future and where we can take our students. It is very relevant across the curriculum and reaches for teachable moments. –Elementary Educator