APEGA Innovation in Education Awards

What are they?
The APEGA Innovation in Education Awards were created to support Alberta educators incorporate the exploration and application of engineering and geoscience concepts in their classrooms—with awards totalling up to $50,000!
Teachers submit a proposal about how they would enhance their students' science curriculum with additional engineering- or geoscience-focused projects, and they could receive up to $5,000 for their classroom project.
Bolster your child's love of science and engineering by telling their teacher about these awards!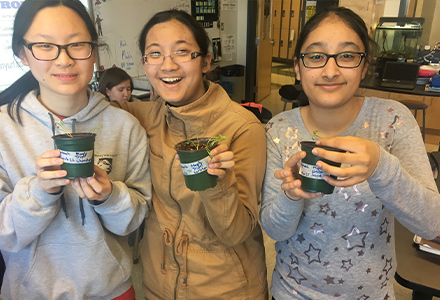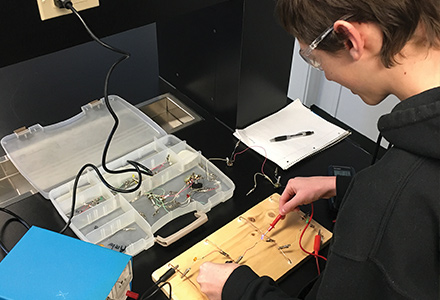 Who can apply?
All Alberta educators certified to teach in Alberta can apply!
You must:
be currently employed by a Grade K to 12 school or school board
be in a role that works with a classroom of students
have the full support of your school or school board
How do you win?
We're looking for the most creative, most impactful proposals that allow students to lead the charge and create amazing results for their classroom and community. We're looking for problem solvers, big thinkers, risk takers, and science lovers to push the boundaries of what education can look like in Alberta classrooms.
---
Past Projects that Have Won an Innovation in Education Award
Design Thinking
Notre Dame High School (Calgary)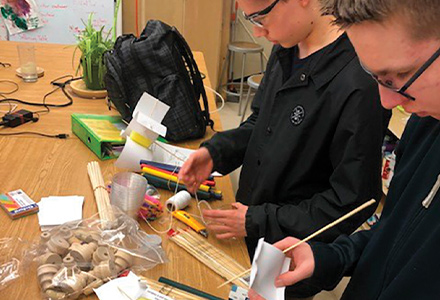 High school pre-engineering and welding students worked to design and build a wind turbine and generator. The turbine was used to generate electricity to power a cellphone charger that can be used by students

Mars, Moon, and Micro:bits

Ecole Champs Vallee School (Beaumont) and Michael Strembitsky School (Edmonton)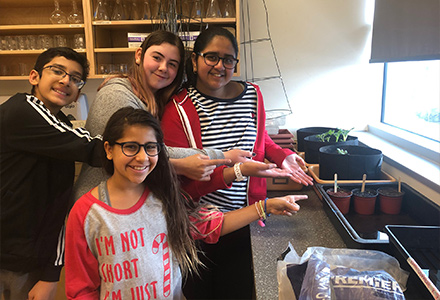 Junior high students explored the geoscience of farming in martian and lunar soil, and they developed automated sensor-and-response systems by coding Micro:bit computers to create monitoring, watering, and lighting plant-care systems.

PDAs: Public Displays of Astronomy

College Park School (Lloydminster)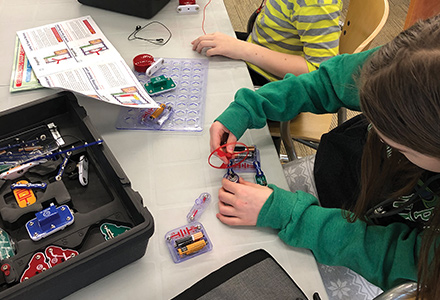 College Park School is home to the Synergy Observatory, open during public evenings and planned field-trip visits. To enhance the observatory experience for visitors, students created immersive, interactive, and multimedia displays centered around the theme of space.

South Exshaw Interpretive Trail
Exshaw School (Exshaw)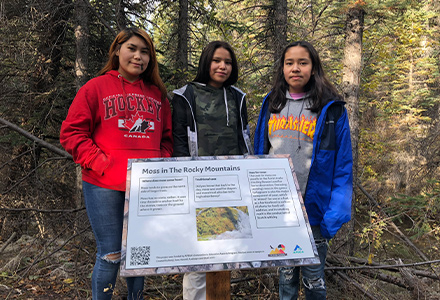 Students installed interpretive trail signs with QR codes along the South Exshaw Trail. Visitors are linked to student-curated websites with further research about natural elements and how the elements interact within the ecosystem of the Bow River basin. They also researched traditional Stoney Nakoda uses of the area and stories to include on the signs and websites.

Sustainable Plastic Autonomous Machine (SPAM)
Our Lady of the Snows Catholic Academy (Canmore)
Grade 7 to 11 students created a red fluorescent bio-tag that allows them to identify PET #1 plastic within mixed municipal collection sites and to sort it from landfill waste for recycling. They also prototyped a robotic system to identify and separate the PET #1 bio-tagged plastic.

Surviving a Natural Disaster!
SouthPointe School (Fort Saskatchewan)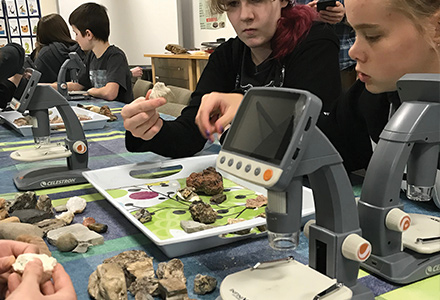 Students demonstrated creativity, collaboration, and empathy using their knowledge of structures, forces, and Earth to design a prototype structure or product that could help a community survive a natural disaster.

---
Media Attention for Past Winners
We're not the only ones who think the Innovation in Education Awards are amazing! See below for what the media has said about one of our 2019-20 submissions.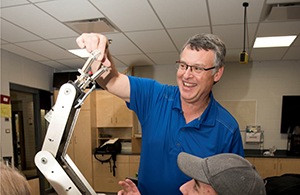 Photo credit: KEVIN MA/St. Albert Gazette
Sturgeon Composite High School Robotics Project
Sturgeon Composite High School (Sturgeon County)
Educator: Kevin Hubick
Students will design and build a semi-autonomous robotic platform that can move systematically through inner city parks or alleys, searching for, retrieving, and safely storing sharps and hazardous waste.