APEGA's Science Olympics Teaches Students How the Professions Change the World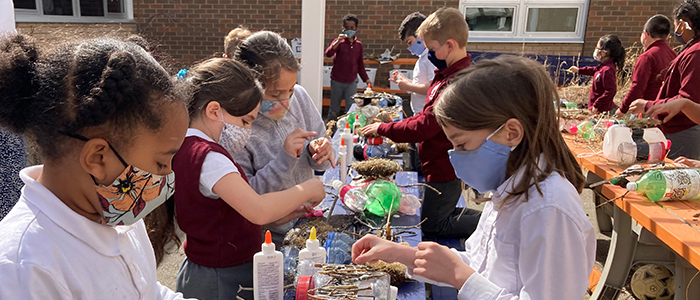 Grade 3 students at Elmer Gish School pose for photos beside plastic tubs holding the ingenious floating birds' nests they've created as part of APEGA's 2021 Science Olympics. With thumbs raised high, they beam, having collected outdoor debris and recycled materials to solve a real-word problem: providing a safe wetland home for birds with habitats threatened by rising sea levels, development, armored shorelines, and human activity.

The nests needed to be capable of floating away from shore but remain anchored and camouflaged, to accommodate a coastal environment, and to be 30 centimeters in diameter or less. The students proudly filled their nests with feather-adorned and googly-eyed plasticine birds and crafted eggs and set them afloat for testing.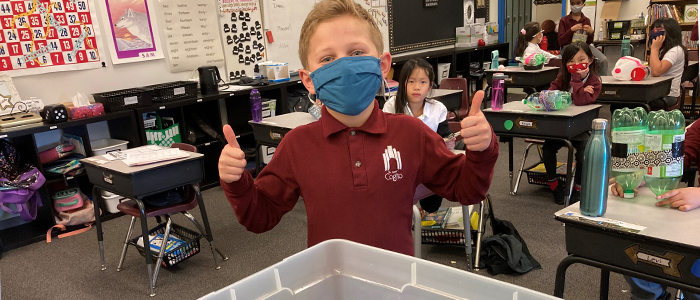 Creative Solutions for Real-Word Problems
Keely McPhee, APEGA outreach coordinator, explains each year for the Science Olympics, APEGA members and teachers take inspiration from problems they've encountered in their careers to create division challenges that speak to real-world issues. The teachers ensure the challenges align with each age group's curriculum. "A big focus of the event is showing students how exciting the professions are and highlighting ways you can have a positive impact on your community and change the world," explains McPhee.
This is teacher Melissa Zawaduk's 14th year leading the APEGA Science Olympics at Elmer Gish school in St. Albert, and her first experience with the event virtually. Introduced to the Science Olympics by a parent and former APEGA member, she has not missed a year since, often drawing names to pare 100 eager students down to 15 participants. This year, due to cohort restrictions, she decided to put the option of participation to a vote within her class, and the results tallied to an overwhelming yes.
She considers the event a highlight for students during an otherwise challenging school year that included alternating between in-person and at-home learning and accommodating cohort and building limitations. "The only time we leave the classroom is to go outside or to the gym. Students don't go to the music room, art room, or even the library," says Zawaduk.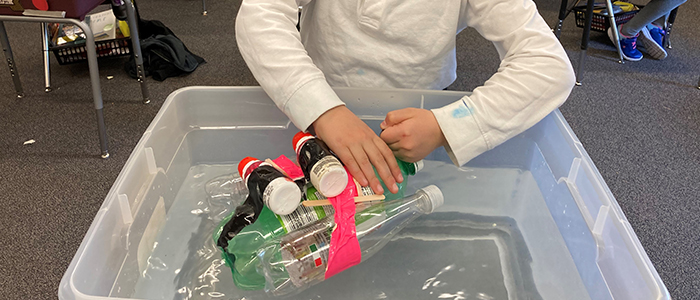 Finding Sustainable Solutions
She used the Science Olympics challenge as a catalyst to go outside and explore. Students collected bits of nature to build their nests in a little forest near the school, and they created and tested their projects in the school's outdoor classroom. "I think students have really gained an understanding of the impact humans are having on the environment and things we could consider doing to solve the problems we've created," Zawaduk notes.
McPhee explains the Science Olympics judges focus on the skills students adopt through working on the challenge in addition to quantitative measurements, like whether the nests float or meet the specified diameter. The judging rubric objectively scores teamwork, communication, problem solving, and creativity, adding up to half of the overall score. McPhee explains this encourages teams to work effectively and come up with creative solutions using the engineering design process. "It fosters students' intrinsic motivation and curiosity instead of focusing solely on external motivators, like getting the most points." She furthers that by seeing each other's projects, students learn there is often more than one viable and effective solution to solve a problem. The success of the project accounts for the other half of the overall score.
Building Confidence and Resilience
Zawaduk echoes the importance of soft skills, explaining the Science Olympics builds confidence in the children while teaching the process of scientific inquiry. "They try something, and it might not work. Then they have to persevere and use critical thinking and creative planning."
She enjoys witnessing the breakthrough when students complete the project and realize they have accomplished something they thought they couldn't. She explains many students want to go with their first idea, and when it doesn't work, they may feel like giving up. "I ask, do you think that scientists in the world invented something the very first time? Or do you think it took a lot of trial and error and collaboration?
If something doesn't work, she encourages students to observe other projects in the class, teaching that in science, everyone works together to find answers.
Teaching Our Future Engineers and Geoscientists
This year's virtual event enabled students to participate who wouldn't otherwise get the opportunity, like those learning from home this year, and those from the far reaches of Alberta. While usually held in person at multiple locations across the province, this year's single event spanned three months and garnered 248 classroom and 210 individual registrations.
APEGA members and university students in engineering and geoscience volunteer to judge the projects—this year, 128 judges evaluated projects virtually through submitted videos and written packages. The interaction with these professionals encourages students and increases awareness of the diverse careers available in the professions.
Zawaduk is looking forward to registering next year for the in-person Science Olympics. The importance of the event is too great to discount: when she asks students what they want to be when they grow up, she often hears a dentist, a doctor, a soccer player, a teacher, or a musician. She rarely hears a scientist.
"I really want them to see science not as a school subject, but as a career, and make the connection that there are a lot of science-related jobs."