New Ethics Module Helps Registrants Understand Responsibilities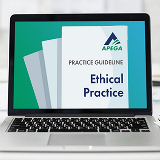 The professional challenges faced by permit holders, licensed professionals, and members-in-training are often complex, and there may not be clear or obvious solutions to ethical challenges. There is a need to continually and carefully reflect on how actions may affect or be perceived by third parties or the public and how those actions may affect the public's trust of the professions.
To help registrants handle these challenges and demonstrate ethical and moral character, APEGA launched a new ethics module in the myAPEGA learning management system on March 29 to complement the Ethical Practice guideline, which was published in August 2022. Registrants can learn best practices to guide decisions and behaviour within the professions by completing the module on the learning management system in the myAPEGA portal.
The most ethical choice
The module includes an overview of APEGA's Ethical Practice guideline and whom it applies to, outlines the responsibilities of self-regulation, and comprehensively reviews the five rules of conduct in APEGA's Code of Ethics.
Kirsten Merle, P.Eng., APEGA's professional practice standards manager, explains the intent of the module is to provide a useful, educational tool to registrants. "Our Professional Practice Management Plan practice standard requires permit holders to reference policies and procedures that help them meet their obligations under the Engineering and Geoscience Professions Act legislation, which also means ensuring permit holders are addressing ethical practice."
Permit holders can use the new ethics module as an optional tool to train their staff on professional ethics. Registrants will earn two continuing professional development hours for completing the module, and an average learner can finish in approximately 90 minutes.
Additional to the core learning, as registrants progress through the module they will complete quizzes, scenarios, and a case study designed to apply learnings. These are not for pass-or-fail purposes, but to help registrants better understand what actions to take in circumstances where there may not be clear or obvious solutions to ethical challenges.
Relatable and relevant content
A panel of volunteer professional engineers and geoscientists informed the content of the scenarios and case study to ensure they reflect real-life experiences. The panel was made up of subject matter experts from various disciplines and industry experiences, including multiple APEGA boards and committees that investigate unprofessional conduct in the professions. "What I find interesting is when people start hearing about these different scenarios or the case study, they relay back, 'Something like that happened to me.' It speaks to how important having these discussions about ethical practice is to our professions," explains Merle.
Ethics should be top-of-mind in all engineering and geoscience practice, especially within industries that have a direct line to public safety, like the engineering completed at Lockheed Martin, a defence and space manufacturing organization. As Guy Breault, P.Eng., APEGA registrant and principal at Lockheed Martin, explains, "The responsibilities of an engineer do not rely solely on our ability to solve complex problems, but in the understanding and demonstration of the ethical and moral character required to accept the responsibilities of an engineer."
The scenarios and case study teach registrants about this character by exploring the most appropriate and ethical courses of action to take when they are confronted with situations such as client influence, harassment, and the intentional omission of information and data. They also cover registrant competency when taking on work and appropriate times to report to authorities.
Merle suggests all registrants complete this module, including members-in-training. Often, she explains, members-in-training aren't aware they are also responsible for upholding the Code of Ethics, even if they are overseen by a professional engineer or geoscientist.
The confidence to converse
APEGA's experts hope this module raises awareness of ethical practices and initiates discussions about ethics throughout the professions and across industries.
Merle says conversations surrounding ethics should be held in practice, and the hope is these learnings provide not only knowledge, but also the confidence to engage in dialogue about topics that aren't always easy. "We need to change the culture—make ethics an appropriate and normalized topic. Each of us has to take responsibility for the ethics of our professions for us to maintain the privilege of self-regulation, and self-regulation is your peers holding you accountable."
Log in to myAPEGA and start the module
Note: To access this module from the dashboard in myAPEGA, click on the Learning Modules tab in the blue navigation bar. If you don't see the blue navigation bar, select the menu icon (≡) in the top-left corner to expand the full menu options.