APEGA's award-winning approach to equity, diversity, and inclusion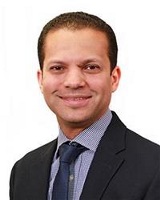 Mohamed El Daly, P.Eng., APEGA's director of outreach and product services, was recently honoured as Diversity and Inclusion Practitioner of the Year by the Canadian Centre for Diversity and Inclusion (CCDI). This award celebrates individuals who have made a significant contribution to diversity and inclusion in Canada—either within their organizations or their communities. He is one of only two recipients this year.
El Daly's interest in eliminating obstacles did not begin at APEGA. As a student at the University of Alberta, he was involved with several groups both on and off campus—working with the international students' association, inner city schools, English as a second language programs, and Indigenous youth. He has proven himself to be a champion for diversity and inclusion and a deserving recipient of the Practitioner of the Year Award.
El Daly credits his APEGA team members for his success. Their effort and passion to bring inclusivity to APEGA and to the professions propels APEGA's Equity, Diversity and Inclusion (EDI) initiative, which promotes and encourages a diverse workforce.
Stepping up by reaching out
Currently, APEGA's EDI initiative focuses on the role of women in the engineering and geoscience professions and has three components:
APEGA's 30 by 30 goal to increase the representation of women in engineering and geoscience professions by 30 per cent by 2030
The WAGE Grant Project, which uses a federal government grant from Women and Gender Equity Canada to research workplace culture and barriers to women in the professions
The Women in APEGA Advisory Group, which provides recommendations to APEGA on the representation, engagement, and retention of women in the engineering and geoscience professions
For more information and to see the milestones achieved in each initiative, visit the EDI page on our website.
Learn more about APEGA's Equity, Diversity, and Inclusion initiatives