Ivan Finlay Leadership Award Champions Exceptional Students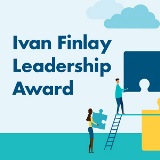 Do you know an engineering or geoscience student who has inspired members of under-represented groups to participate in campus or community activities? If so, encourage them to apply for the APEGA Ivan Finlay Leadership Award! This award recognizes students who have effected positive change while serving in a volunteer leadership role.
Funded by APEGA's past-presidents, these $1,000 awards support undergraduate and graduate students in engineering and geoscience programs who demonstrate inclusive leadership that advances equity. Six recipients will be selected for the 2022 award period, with applications closing on November 20, 2022.
What does it take to be a recipient?
To be eligible, the student must be enrolled in engineering, geology, or geophysics undergraduate or graduate degree program in Alberta and be able to demonstrate how they've made a difference. Graduate students must also be either a member-in-training or an applicant with APEGA.
For 2022, the criteria have been redefined to recognize volunteer leaders who advance diversity, equity, and inclusion in the fields of engineering and geoscience and in the community.
Learn more about the award criteria and apply today
Who was Ivan Finlay?
Ivan Finlay, P.Eng., FEC, was an electrical engineer who rose through Alberta's public service to become the chief electrical inspector, after which he served as APEGA's first full-time registrar from 1959 to 1978. During his tenure at APEGA, he solidified his reputation as a leader who always acted with a high degree of professionalism and integrity. He worked with 20 APEGA presidents, sharing with them his forward-looking perspective and confidence in the next generation.
When Finlay retired, the past-presidents made him the first honorary member of the Order of the Vest—a tradition that recognizes the end of a president's one-year term—and created the Ivan Finlay Awards to foster and honour the leadership skills of upcoming generations.
If you have any questions about the award, please contact [email protected].