Candidates Announced for 2022 APEGA Council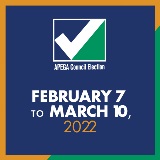 The nomination process for the 2022 Council election is complete and candidates are preparing their messages. That means it's time for members to start thinking about who to vote for in the 2022 APEGA Council election.
Three candidates seek the president-elect position for the 2022-2023 term and 11 others hope to serve three-year terms on Council. You can vote for up to four candidates for Council and one for president-elect—the runner-up will become the vice-president.
Two of the candidates for president-elect are current councillors, so depending on the outcome of the vote, up to six Council seats will be filled.
You've already chosen the new president for 2022-2023—Lisa Doig, P.Eng., won the president-elect race last year, so she moves up to president automatically.
The Candidates
Note: The following list of candidates has been randomized, and will be posted in this order throughout the election process.
Incoming President (2020-2021 President-Elect)
Executive
Manon Plante, P.Eng.*
Tracey Stock, P.Eng. *
Darren Hardy, P. Eng.*
Councillor
Wendy Shier, P.Geo.*
Jonathan Prill, P.Eng.
Lorna Harron, P.Eng.*
Roya Iranitalab, P.Eng.
Vahid Ayan, P.Eng.
Ziad Saad, P.Eng.*
Dean Mullin, P.Eng.*
Jason Vanderzwaag, P.Eng.*
Wally Kozak, P.Eng.*
Thomas Clarke, P.Geo.
Geoffrey Kneller, P.Eng.*
*recommended by the APEGA Nominating Committee
Election Dates
Electronic polling opens Feb. 7, 2022, and closes Mar. 10, 2022. You'll receive full details in early 2022.
Who Are the Candidates?
You'll have plenty of opportunities to find out more about the candidates between now and voting time. We will add professional highlights for each candidate to the election area of our website in January. We'll also post video introductions of the candidates in mid-January.
Why Vote?
To keep improving as a leader in self-regulation, APEGA relies on a diverse team of strategic thinkers to provide sound, visionary governance. It's a key to our success, and you are part of the process.
The pandemic may have changed how we work, but professional engineers and geoscientists continue to help make Alberta strong and resilient. Demonstrate your engagement and commitment to self-regulation by learning about the candidates and voting during the election to keep our strong, diverse Council equipped with the expertise needed to navigate any challenges that lie ahead.