Events & Professional Development Calendar
Find Past Webinars On-Demand

You can now access on-demand sessions using our new Professional Development Centre! See past webinars, search for a specific session, and subscribe for updates on new content. Simply click the button below, select your content, register your account, and start watching today.
President's Visit with President Lisa Doig, P.Eng., MBA
Ongoing throughout 2022 The President's Visits are excellent opportunities for members to receive relevant, profession-related updates, expand their networks, and participate in valuable discussions about engineering and geoscience. President Lisa Doig, P.Eng., MBA, FEC, FGC (Hon.) will be hosting 11 in-person events from now until December.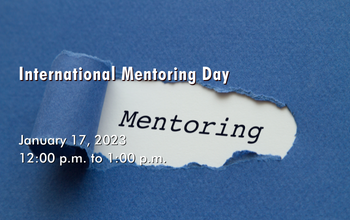 International Mentoring Day
January 17, 2023 at 12:00 p.m. Celebrate International Mentoring Day with APEGA. We will explore some of the ways APEGA members have been positively impacted by the APEGA Mentoring Program, discuss the APEGA Mentoring Program, and learn about the benefits and how it can support you in your personal and professional development.
Inclusive Practices for
Event Planning
January 27, 2023 at 11:30 a.m. This session connects event planning and execution with inclusive practices. You will examine the impacts of the presence and lack of inclusion on event participants, brainstorm practices for inclusive event planning and execution. use and modify an inclusivity checklist for your own event context
Find Events
Search
Find Events Quickly with Tags
Location or Branch/Region
Topics & Event Formats