Collaboration Key in Continuing Public Safety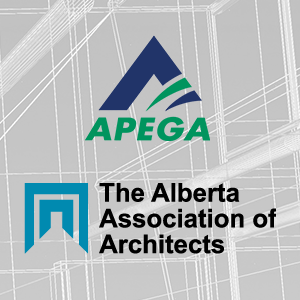 APEGA and the Alberta Association of Architects (AAA) have partnered to create a joint practice bulletin that will shed more light on building-envelope practice rights.
The two regulators—which operate under the Engineering and Geoscience Professions Act and the Architects Act, respectively—each publish practice standards that define the expectations and professional obligations of their registrants. Both acts have scope-of-practice exclusivity clauses that, depending on interpretation, can overlap.
Through the joint practice bulletin, Functional Relationships for the Building Envelope Portion of Projects, APEGA and AAA clarify roles and responsibilities for building-envelope projects, specifically who can authenticate National Building Code – 2019 Alberta Edition (NBC[AE]) schedules for a given building project. The bulletin will help architects, licensed interior designers, and professional engineers involved in building projects in Alberta meet their legislated obligations.
The joint practice bulletin is in effect and enforceable as of July 1, 2023. You can find it on APEGA's Practice Standards, Bulletins, and Guidelines web page.