Optimize Your Learning with APEGA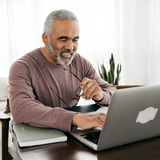 March 21, 2023 - The learning management system (LMS) is now live within the myAPEGA portal. APEGA members and members-in-training can use their regular myAPEGA login to access all learning modules, including Authenticating Professional Work Products, Permit to Practice, and Relying on the Work of Others and Outsourcing. Look for new modules to come, including a new Ethics module, which is scheduled to be released before the end of March.

Log in to myAPEGA
In March 2023, APEGA will launch a new, engaging, and modern learning management system (LMS) in the myAPEGA portal. The upgraded system reflects APEGA's commitment to continuous improvement and dedication to supporting registrants' growth in their professions. It also enables registrants to better understand their regulatory requirements, including additional training regarding APEGA's practice standards and guidelines.
Registrants will be able to access the new LMS through the same sign-on they currently use to access their myAPEGA account. The system's seamless connection to the rest of the myAPEGA portal makes learning accessible and convenient—registrants can track their continuing professional development hours in the same place they earn them.
Transitioning to the new LMS
The current LMS will no longer be available when we start the transition in early March—more information regarding the transition dates will be provided when available. All in-progress courses should be completed by February 28, or registrants will need to start them from the beginning in the new system. Any non-APEGA members who can currently access course content will no longer be able to do so.
Responsible Members required to complete the Permit to Practice module in March will receive an email with further instructions.
APEGA is excited to better support our registrants when we launch the upgraded LMS, helping them preserve public safety through excellent professional practice.
For more information, please contact [email protected].