Leading with Empathy: How APEGA Helps International Applicants Navigate Registration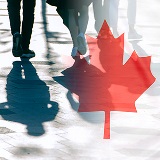 (Content warning: This article mentions war and artillery fire.)
The assumptions we form watching war-zone news footage do not come close to the unique perspective of a human who's lived in a refugee-like situation. Enayat Aminzadah, APEGA's international qualifications officer, brings that perspective to his role at APEGA, as he helps international applicants with their APEGA registrations.
He says the human connection is what makes his work meaningful. He strives to understand each unique situation—each person's qualifications and goals—so he can provide them with the most helpful advice. If they qualify for licensure, he guides them through the process of submitting a well-done application. He says it's all about helping them move forward.
Aminzadah likes presenting at sessions organized by groups serving immigrants and holding one-on-one meetings so he can see in-person reactions and ensure understanding. "I get to interact with them and show, in a small way, a human face to the organization."
"We are regulators, we are gatekeepers, but it's like our registrar says: we are in the business of working with human beings."
Building a unique understanding
When he was young, Aminzadah would burst onto the streets of Afghanistan at 2 p.m. when the daily pop of gunshots slowed, sometimes ceasing. Laughter and calls of "Foul!" rose and replaced the fusillade—his friends collected in a certain bustle—they knew the routine.
Coveted yet effortlessly shared, a homemade soccer ball is clutched. It's quilt-like and dirty-rainbow hued—an imperfect circle made from wrapped strips of collected fabric: a little brother's torn shirt, a cloth blowing about a disheveled streetcorner.
"A lot of people will tell me, 'You come from a war zone, and it must have been very tough, very challenging.' I mean yes, it was. But when you're born into that and you don't know what to compare it to—if you don't go a day without hearing gunfire or seeing a person with an amputation, it's the norm. Like any other child, you use your imagination and your own set of skills to try and entertain yourself. I used to love playing soccer alongside my friends."
Canada: A refuge and a reconfiguration
When Aminzadah's father told him a date was set for their family to immigrate to Canada, he was devastated—he didn't want to leave the familiarity of home or his friends. At age 16, it was time—he arrived at his new home through a government-sponsored program, meaning he left Afghanistan as a refugee and arrived as a permanent resident in an unfamiliar land, akin to what Syrian and Ukrainian refugees experience today.
Upon arrival, he faced a new challenge: the Canadian education system. The wartime interruptions of his education—a destroyed building or an unsafe walk to school—meant that he was 16 and educated at a Grade 6 level. His work ethic and English tutoring enabled him to catch up with his peers and graduate from the University of Toronto with a degree in political science and economics.
A role for a reason
He's since worked at the Government of Alberta in international qualification services, where he identified equivalencies between international and Canadian course credits, and at Immigrant Services Calgary. From this, a career builds based on his passion to support others through shared experience. For the past eight years, he's brought the same human touch and passion to his work at APEGA.
"I'm a bit more in tune with how to advise newcomers, especially when they may not even be ready to complete an application with APEGA—I let them know how to get ready and what services they can tap into, because I've got those industry connections and relationships."
He understands the struggles and accomplishments of those wanting to practise the profession they worked so hard to earn. "When I was young, a lot of my own family members had to go through this kind of a process, mostly unsuccessfully. This is very personal for me."
Number of applicants trained in Canada vs. internationally in 2021:

3,108 applicants trained in Canada
1,252 applicants trained internationally
4,360 total applicants

In 2020–2021, most of APEGA's international applications came from applicants educated in Nigeria, Iran, and India.
The wisdom to lead with empathy
Aminzadah explains that this understanding of where people are coming from helps him in conversations with those with international credentials inquiring about licensure. He says some qualifications don't transfer, but having the ability to understand and acknowledge the value of these credentials is meaningful.
"Whatever profession they studied in their country, it very much becomes part of their identity." He says his assistance can affect their future and livelihood, so he does not take his work lightly. This awareness means he proceeds with empathy and realism. He also lets them know which resources they can tap into for funding assistance or mentorship opportunities, if he believes they would benefit.
A personal pride
It gives him immense satisfaction when he can help an applicant through the registration process, especially when they arrive from countries where they are suppressed.
Studying immigration trends, issues, and policies prepares and informs Aminzadah to help those looking for assistance. He says it speaks volumes he's spent almost a decade welcoming international engineering and geoscience applicants to Alberta's fold in his role at APEGA, which at the time was the only Canadian engineering or geoscience regulator with an employee dedicated to helping this specific subset of applicants.
He can relate to this specific subset of applicants—perhaps they also remember the blasts of artillery discharge.
It's 4 p.m. and the cannonade has begun anew. The soccer game of Aminzadah's youth comes to a fast finish, the threadbare ball retires into the arms of a child who knows the routine—time to go inside.
Through his reminiscence of a childhood game, Aminzadah shows humanity is not lost in a war zone, and through his heartfelt work at APEGA, he proves it's not lost in regulation, either.
---
Further resources
Obtain a Course-by-Course International Credential Advantage Package of your academic records from World Education Services.
Do you have questions about applying? Would you like to connect with Enayat? Email

[email protected]

.