Advancing Careers and Building Aspirations at APEGA Nexus 2022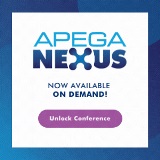 More than 1,100 professionals attended APEGA Nexus 2022 to advance their careers and aspire for more, including participants from New Zealand, Saudi Arabia, and the United States.
Day one blasted off with astronaut Col. Chris Hadfield, the first Canadian Commander of the International Space Station, speaking about managing through complexity and change. He shared inspiring words with new graduates: focus on your grades, set goals for yourself, outline ways to meet them, and keep moving forward in clear, defined steps—sound advice for anyone looking to achieve the next great accomplishment in their career.
---
Five Streams, 25 Sessions
Attendees explored recent technology and science and learned about bringing to life novel and innovative ideas and projects by attending Advanced Manufacturing for the Mining Sector, Courage: The Art of Risking Failure, and Alberta's Carbonate Rocks: A History and How They Will Save the World.
They advanced their business and leadership skills in sessions like Persuasive Negotiation, Effective Delegation, and Constructive Conflict Management.
By joining experts for the sessions Rethinking Our Thoughts, Preventing and Recovering from Burnout, and Strategic Networking: Make Your Contacts Count, attendees cultivated skills to advance their careers and employment.
In true APEGA style, Nexus would not be complete without educational sessions on advancing practice and regulation, like Practice Standards: What's Next? and APEGA Investigations for Registrants.
Select sessions are available on demand until Sept. 9. With on-demand access, you could earn up to 48 professional development hours! Feeling like you missed out? Don't fear! You can still purchase access to the on-demand portion of the conference today!

---
Equity, Diversity, and Inclusion
In her keynote Unconscious Bias and Challenges to Fair Assessment, award-winning teacher, researcher, and science outreach educator Prof. Maydianne CB Andrade, PhD, FRCGS, spoke about how unconscious bias is often unexpected and how to be aware of its effects in the workplace.
Attendees also attended sessions about Competency-Based Hiring: Candidate Evaluation, Organizational Results, and Innovation, and Walking in the Workplace with the Calls to Action to learn ways to improve equity, diversity, and inclusion in the workplace.
---
Innovation for the future of Alberta
Attendees aspired to improve the world around them through sessions focused on advancing research and innovation like Crediting Carbon Capture and Storage: The Challenges and Opportunities.
Murray Smith, expert in Canada-U.S. relations and oil and gas development in Canada closed the conference with his keynote speech Headwinds and Tailwinds, where he encouraged the development of liquid natural gas resources worldwide. He cites it as the best new opportunity for Alberta, "the next klondike gold rush for our province," and says the new energy climate targets developed over the past few years will create more demand for engineers and geoscientists—those he calls visionaries.
---