Member Feedback Leads to myAPEGA Portal Launch in Summer 2021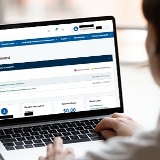 APEGA surveyed members and permit holders to see how we could improve APEGA's portals. The resounding response: members desire a simple and easy-to-use interface.
In February 2020, an APEGA project team began putting this feedback into effect, creating myAPEGA—a self-service portal launched in June 2021 to better meet member needs.
According to Jay Nagendran, P.Eng., APEGA's Registrar and CEO, "We're working hard to evolve and continually improve the online experience for our registrants and members. This is an exciting improvement to the APEGA systems—with this update we set a foundation for the future, and there is certainly more to come."
A single site to meet member needs
The myAPEGA dashboard provides a snapshot of a member's or permit holder's status and responsibilities with APEGA, allowing them to view actionable items at a glance.
"We've modernized the interface of our member portals, improved the navigation, moved some of our paper forms online, and massively simplified our processes. Our hope is that members find it intuitive, and it makes their obligations easier to meet while streamlining their interactions with us," says Cole Harvey, APEGA's director of information technology.
The portal combines the functions of the company and member self-service centers, enabling convenient access to profiles, information, and related actions with the same user ID and password used to access member profiles— resulting in a modernized user experience, according to Harvey.
A permit's senior officer can now give administrators their own login information to access select areas of a profile where they can perform job duties such as pay invoices on behalf of a permit, leading to more efficiency and increased account security. To set up a new permit account, a senior officer can simply log in and follow the process to begin a new membership, and myAPEGA will merge any existing accounts with the new permit account.
If a past member has voluntarily resigned their membership, they can still log in through myAPEGA to access a permit.
The Continuing Professional Development (CPD) Program is now hosted on myAPEGA, allowing members to access CPD information and input CPD hours throughout the year. "Every time you go to a conference, you can log in and track your hours, submitting to the categories as you go. It's time efficient, and the system will do the math for you based on the activities you submit," explains Harvey.
Each time a member renews, they will be prompted to ensure their profile information is up to date, recognize the definitions of status, and complete a character declaration ensuring good standing. They will also receive a notice of their CPD obligations.
A foundation for future innovation
A benefit of the new myAPEGA platform is added fiscal savings, as staff processing times will be significantly reduced. The portal also contributes to APEGA's continual efforts to go paperless—invoices will no longer be mailed or emailed to members. Rather, the myAPEGA platform will send notifications to members' email addresses. The same process is followed for CPD hour updates and permit holder access changes. Receipts and member cards will be accessible on the portal, available for printing at the user's convenience and need.