Provincial Government Approves Extension of General Regulation Expiry Date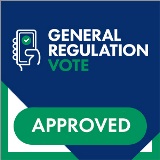 The Government of Alberta has recently approved extending the expiry date of the General Regulation to September 30, 2026. This important piece of legislation enables the continued self-regulation of the engineering and geoscience professions in Alberta. The General Regulation works in tandem with the Engineering and Geoscience Professions (EGP) Act by setting the registration criteria to ensure only properly qualified, educated, and ethical professionals are licensed to practice engineering or geoscience in the province.
This five-year extension was voted on by APEGA members in November 2020 via electronic vote. Nearly 17 per cent of APEGA's eligible members participated in the vote (more than 9,700 licensed professionals), and 96.7 per cent of votes cast supported the amendment.
Stay tuned to APEGA's news feed or subscribe to our newsletter to ensure you don't miss any important updates regarding the EGP Act or its related legislation.
Learn more about the General Regulation vote
Read the news release from November 2020 (PDF)