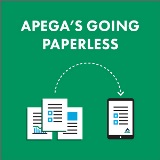 Over the past few years, APEGA has gathered feedback from our members on how we can improve your membership experience. You told us that our Member Self-Service Centre (MSSC) and the Company Self-Service Centre (CSSC) portals were out of date and did not always provide you with the tools and resources needed to track and manage your professional obligations.
As a result of your feedback, we are updating and innovating our online services for members and permit holders. In early summer 2021, we will be consolidating functions of the MSSC and the CSSC into a single new services portal: myAPEGA.
What to expect
Once myAPEGA is here, your next renewal package will be available online, which includes your:
invoice
receipt
annual declaration
registrant (member) card
You will be able to download your receipt and registrant (member) card directly from myAPEGA. If you are a licensed professional, you will be able to complete the new annual declaration online.
Take a minute to review your contact information to ensure you will continue to receive important messages from APEGA. When myAPEGA arrives, all of your important notifications will arrive through your myAPEGA account and the email we have on file.