APEGA Members Vote in Support of Extension of General Regulation Expiry Date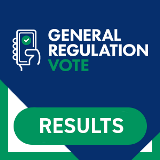 Over a one-week period, from November 3–10, 2020, APEGA members voted electronically to approve an amendment to Section 79.1 of the General Regulation to extend the expiry date by five years to September 30, 2026.
The certified results of this electronic vote show that APEGA members are strongly in favour of extending the expiry date of the General Regulation:
96.7 per cent of votes cast supported the amendment.
Nearly 17 per cent of APEGA's eligible voting members participated in the vote—more than 9,700 licensed professionals.
The extension of the expiry date enables the continued self-regulation of the engineering and geoscience professions in Alberta while APEGA works with the Government of Alberta to proclaim a modernized Engineering and Geoscience Professions (EGP) Act. The Act has not been significantly updated for nearly 40 years.
For more information on the General Regulation vote, please visit apega.ca/GenRegVote.