City of Edmonton Proclaims June 29 as APEGA Day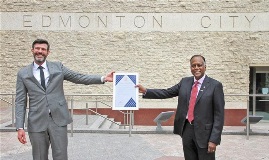 On June 29, the City of Edmonton recognized APEGA's accomplished history and the amazing achievements of our members by naming the day APEGA Day.
This proclamation comes during APEGA's centennial year—100 years of serving the public interest through the self-regulation of the engineering and geoscience professions in Alberta.
"APEGA has been honoured to have spent the last century protecting the public and ensuring our members meet rigorous standards for ethical, professional, and technical competency," said APEGA's registrar and CEO Jay Nagendran, P.Eng., as he accepted the proclamation from Mayor Don Iveson. "And we're excited to kick off the next century of leadership, innovation, and excellence."
A lot can happen in 100 years, and indeed, it has. Since 1920, APEGA has laid the framework for a safe and resilient future with ingenuity, perseverance, and drive. With these resources, the association's members represent some of the most innovative decision makers and thought leaders in the world of science.
"Thank you for recognizing the outstanding accomplishments of our APEGA family, our professional engineers, and our professional geoscientists," said Nagendran. "Together, we play an important role in shaping the future of Alberta, Canada, and the world."
Want to Know More?
Find out what APEGA and our members have been up to during the past century by visiting
DiscoverAPEGA
.