APEGA Updates Regarding COVID-19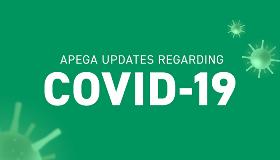 Hello everyone,
I know this is a difficult time for all Albertans as we deal with the outbreak of COVID-19 in our province, an unprecedented event that has left many of us uncertain and looking for answers. APEGA's members, permit holders, and staff have always been stronger together, and we remain united throughout these trying times.
We have been actively monitoring the outbreak over the past weeks, and we have been assessing our activities and operations to decide the best way forward. Like many of you, we are receiving guidance and accurate, up-to-date information from the Government of Alberta, the Government of Canada, and the World Health Organization.
We have assembled the APEGA Crisis Management Team to monitor the situation, develop mitigation risk scenarios, and make recommendations to ensure APEGA is able to continue operations.
For now, the APEGA offices in Edmonton and Calgary remain open with a reduced staff—with many staff working from home. We ask that you do not visit either office. We will be deciding on the status of potential office closures and will keep you updated as we work through this situation.
As well, scheduled professional development sessions, events, and activities up to April 30 have been assessed and are being cancelled, rescheduled, or offered online. As we continue to evaluate our upcoming activities, we will ensure that you are informed of any changes. Registration fees for any cancelled or rescheduled events or activities will be refunded.
As a reminder, some of the basic precautions are:
Wash your hands with soap and warm water for at least 20 seconds
Use approved hand sanitizers
Avoid touching your face and mouth, especially with unwashed hands
Avoid close contact with people and animals if illness is suspected
Cough into a tissue or your elbow and then wash your hands immediately
Follow instructions from Alberta Health Services if you think you may have COVID-19
Rely on reputable sources, such as the Government of Alberta website and the Government of Canada website, for more information. We are stronger in a crisis by supporting one another and working together. Please stay healthy and be kind to one another during this time.
Jay Nagendran, P.Eng., FCAE, ICD.D, FEC, FGC (Hon.)
Registrar & CEO