Blowing Up Paradigms—U of A Outreach Leader Pushes Open Diversity Doors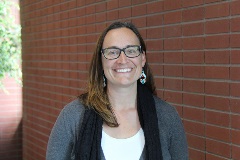 As communities around the world celebrated International Women's Day this year, Ania Ulrich, P.Eng., PhD, had an extra reason to hold her head high: Women's Initiative Edmonton was presenting the 2019 Women's Leadership Award—and her name was on it.

As associate dean of outreach in the University of Alberta's Faculty of Engineering, Dr. Ulrich champions diversity and inclusivity among faculty and students, inspiring future engineering professionals and leading with compassion.
"Dr. Ulrich exemplifies the best traits of a leader, mentor, and engineer," says Meghana Calupadas, vice-chair of Women's Advocacy Voice of Edmonton Vice-Chair. "She continues to pave the way. . . for women to feel included and successful throughout their program."
Under Dr. Ulrich, the faculty is attracting a diverse range of students, some of whom are establishing their own inclusivity initiatives. One such group supports engineering students of Métis or First Nations heritage. Another connects engineering students with young women interested in the profession.
The faculty's engineering and science outreach team also drums up interest in the fields known as STEM: science, technology, engineering, and math.
"I was recently invited to speak to over 300 school teachers, from kindergarten to Grade 12, who wanted to hear from a female engineer on this topic and how they could contribute in their classroom," she says in a story on the U of A website. "Most people think that engineers only build bridges, buildings, and cars, and they're really surprised to discover how vast engineering work is and how we help people and society. It makes me so happy that we are blowing up paradigms. The message of women in STEM is gaining traction and there's more awareness. It's very exciting."
Of course, women aren't in it alone. "When 88 per cent of your faculty members are male, they're a huge part of the community, and many of them want to help work toward greater equity, diversity, and inclusivity," Dr. Ulrich says. "We need men who really care about this and want to be part of the process. They're the ones who are going to swing the majority and it is important to share that work."
Her commitment to improving diversity and inclusion not only builds the reputation of the university. It pays forward into the profession.
"We want to make sure our faculty reflects a diversity of lived experiences, expertise, values, and opinions. It is fact that a diverse engineering community creates high-calibre solutions to problems."

INSPIRING INCLUSION
Ania Ulrich, P.Eng., PhD, is certain there's room for women and minorities in science, technology, engineering, and math, and she's finding ways to get them there and keep them there.
-photo courtesy Engineering at Alberta
This article was originally published in the Fall/Winter 2019 PEG Magazine