Government of Alberta Plans to Improve Interprovincial Trade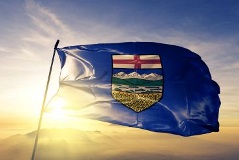 As part of an effort to increase interprovincial free trade, the Government of Alberta has announced that it will make it easier for skilled workers in other Canadian jurisdictions to practise in Alberta. The government aims to improve processes and strengthen language as a way to decrease the time it takes professional regulatory bodies to recognize out-of-province professional credentials.
"APEGA supports the provincial government's commitment to removing cumbersome barriers to employment," said Jay Nagendran, P.Eng., APEGA Registrar & CEO. "APEGA has a fast interprovincial application process in place for licensing professionals. We strive to get engineers and geoscientists to work in our province as quickly as possible, helping to build our economy, develop Alberta's resources, and drive diversification for our province's value-add industries."
APEGA joined Canadian sister regulators as signatories to inter-association mobility agreements in 1999 for engineers and in 2001 for geoscientists. These agreements have led to continuous improvement of APEGA's processes and processing times, along with improved cooperation between the regulators.
The province's announcement is part of Alberta's job-creation strategy. The trade piece also includes dropping all provincial exceptions to the 2017 Canada Free Trade Agreement related to procurement. The changes, when they come, will likely mean more permit applications. APEGA will evaluate internal processes and adjust as required to respond efficiently.
Said Premier Jason Kenney in his June 10 announcement: "While there has been some progress toward free trade within Canada, we need to be more ambitious. That is why we're also extending an invitation to other provinces to join the more trade-friendly New West Partnership Agreement." This agreement currently covers Alberta, British Columbia, Saskatchewan, and Manitoba.
APEGA is committed to sustaining a high standard of fast and efficient processing of interprovincial applications, both individual and corporate. APEGA looks forward to working with the Government of Alberta to implement changes thoroughly, seamlessly, and effectively.
APEGA News Release & Backgrounder