APEGA Awarded Three-Year, $350,000 Status of Women Canada Grant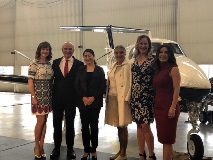 APEGA has a long history of supporting diversity and inclusion in the workplace. We're taking it to a new level thanks to a three-year, $350,000 grant from the Status of Women Canada, a federal government organization that promotes economic, social, and democratic equality for women.
APEGA is one of three Alberta organizations awarded funding for projects that address root causes of economic insecurity for women in Canada. We'll use the grant to examine workplace barriers facing female engineering and geoscience professionals—things like pay equity, hiring practices, and advancement opportunities. "Data collected during the study will help us develop Canada-wide workplace culture guidelines to help all companies, in any industry, create more inclusive workplaces that fully engage women," said APEGA Registrar & CEO Jay Nagendran, P.Eng.
The project supports APEGA and Engineers Canada's 30-by-30 goal to increase the number of women in the engineering and geoscience professions to 30 per cent by 2030. About 13 per cent of professional engineers and about 19 per cent of professional geoscientists in Alberta are female.
"We want to ensure that women currently working in the professions, and those entering them in the future, don't face unintentional systemic barriers. We want all members to be valued, welcomed, and included in the workforce," said Alissa Boyle, APEGA's outreach manager and the project coordinator.
Member and Permit Holder Participation Vital
We'll be seeking the support of members and permit holders to ensure this project's success.
As part of the study, we'll consult directly with female professional engineers and professional geoscientists to help us understand their experiences working in industry and any challenges they face. We'll work closely with engineering and geoscience employers, which will help us test and modify our guidelines to ensure they're feasible and achievable.
We'll also be adding gender and diversity questions to our annual salary survey to measure the current state of diversity in our professions. The 2018 survey is now underway, so we'll be sending the new questions out to permit holders that have already participated. Others can still get involved—the survey is open until June. 18.
In future years, gender and diversity questions will added directly to the survey.
Partner Organizations
We'll be collaborating with other organizations that champion diversity and promote science and engineering to girls and women. By engaging with groups, we can use their expertise and avoid duplication of previous work. Confirmed partners on the project are:
Schulich School of Engineering (University of Calgary)
Canadian Coalition of Women in Engineering, Science, Trades and Technology
Alberta Women's Science Network
Canadian Centre for Diversity and Inclusion
Key Outcome: Workplace Culture Guidelines
By the end of the three years, we'll release a comprehensive document, with case studies, which can be used by APEGA permit holders—and other businesses—interested in changing their workplace culture. Topics to be covered will include:

inclusion
hiring practices
wellness strategies
pay equity
training and advancement opportunities
employee resource groups

"It's been proven that diverse workforces are more successful and innovative. APEGA wants to support our permit holders to design positive cultures, so they can be leaders and innovators in their fields," said Ms. Boyle.
Related Links