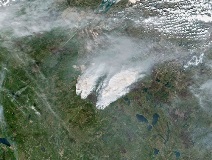 APEGA Permit Holders and Professional Members played a crucial role in the Fort McMurray wildfire response and recovery, following one of the largest mass evacuations in Canadian history.
A safe place to sleep. A warm meal. A welcoming smile. When a raging wildfire forced nearly 90,000 people to flee Fort McMurray on May 3, companies operating in the region quickly stepped up to provide comfort and shelter to thousands of evacuees.
Many APEGA Permit Holders opened the doors to their camp facilities, helping stranded residents who had hastily escaped the city—most with no food, clothing, or other supplies. About 25,000 people north of the city were trapped when Highway 63, the only route south, was closed to traffic.
Suncor Energy had one of the largest influxes of evacuees, taking in 10,000 unexpected guests and a menagerie of pets, including fish, birds, a snake, and even a goat. Other companies providing temporary accommodations included ATCO, Athabasca Oil Sands, Canadian Natural Resources, ConocoPhillips, Husky Energy, Shell, Suncor, and Syncrude.
But that wasn't all.
These and other companies offered medical support, free food—even diapers for their tiniest guests. They rounded up motorists who had run out of gas and were stuck on the highway. They donated supplies to Fort McMurray residents, nearby First Nations, and emergency responders. They sent in firefighters and equipment to battle the flames. Those with private airfields—among them Canadian Natural, Shell, and Suncor—organized airlifts, relocating thousands of people and pets to safety in Edmonton and Calgary.
They did all of this while securing their own facilities and shutting in oil production, so their non-essential staff could safely evacuate their families.
Many companies continued their support in the days and weeks that followed, providing food, supplies and lodging to the workers protecting and rebuilding the community.
Many of APEGA's Professional Members were also doing their part, working behind the scenes to support first responders, protect the community, and help quickly and safely restore essential services damaged by the flames and smoke. When it was safe, they helped get oil sands facilities back up and running, helping lessen the disaster's economic impact. Many Members were among the evacuees facing uncertain futures.
Read APEGA's stories about our Members and Permit Holders affected by the wildfire:
Water for the Firefighters, Water for the Residents