Events & Professional Development Calendar
Until further notice, all APEGA events will be held via webinar or virtual meeting. Regulatory events such as Permit-to-Practice Seminars and Practice Standards consultation sessions are being offered through online delivery with minimal changes to content and materials. Professional development and branch events which have been developed with online delivery in mind are also being continuously added for members to attend from their homes.
If you have any questions about professional development offerings or events, please contact [email protected]. We look forward to seeing you online!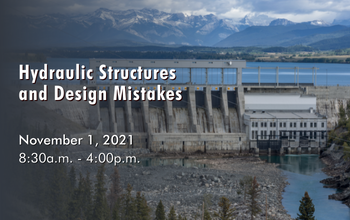 Hydraulic Structures and Design Mistakes
November 1, 2021 at 8:30 a.m. In this session, Dr. Saied Saiedi, P.Eng., will explore the design fundamentals of hydraulic structures including common mistakes, using a series of hands-on exercises and case studies.
Building Mental Health Together

Webinars - November 4, 10, and 24. These sessions are focused on sharing strategies to sustain your mental health, achieve a healthy work-life balance, and influence a mentally healthy workplace for everyone. These webinars are free and open to everyone, including the general public.
Stormwater Series: Detention Pond Design Part
November 16, 2021 at 8:00 a.m. This seminar is the last of a series that will cover the complex topic of stormwater management. This seminar will provide an in-depth review of the design configuration, and safe operation of multiple objective facilities.
Find Events
Search
Find Events Quickly with Tags
Location or Branch/Region
Topics & Event Formats