Toast Excellence and Get Inspired at the Virtual Summit Awards Gala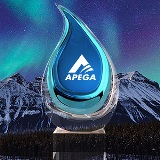 T&S: Supporting Members;T&S: Program Awareness;Aud: Registrant;IC: 09 Career Dev;Cam: Nexus Conference
What happens when you bring together a group of exceptional professional engineers and geoscientists to celebrate their innovations and contributions to the professions?
Attend APEGA's virtual Summit Awards Gala on April 27 and find out!
APEGA's Summit Awards recognize those who have made outstanding contributions to the professions and to the community. There are up to 11 awards presented annually, chosen from nominations sent in by fellow members, colleagues, students, and the public.
Register today to celebrate and learn about the seven accomplished professionals and two groundbreaking projects receiving Summit Awards in 2023.
A professional engineer who uses nature's networks to create transportation systems that increase equity and optimize resource use.
Asoftware engineering professor whose educational methods enable students to make Calgary a centre for excellence in technological advancement.
A professional geoscientist leading the geothermal energy transition, ensuring accessible and sustainable energy for communities in need.
A professional engineer and activist for public safety who leads others along the path of reconciliation.
A professional engineer and technical expert in the construction industry who optimizes processes to increase site safety and effectively allocate resources.
A professional engineer who saves lives by using data to predict forest fires, providing early warning systems and mitigating strategies to protect people and industry.
A professional engineer drawing from his childhood experience as the "new kid" to elevate mentorship in the profession and create the leaders—and mentors—of the future.
A field research station solidifying Alberta as a leader in carbon capture and sequestration research and industry innovation.
A scholarship program redefining who receives funding for engineering and geoscience education, opening opportunities for diverse groups to enter and improve the professions.
Come together virtually and give these professionals a round of applause while enjoying live musical entertainment. This event is free to attend, so register today (or before April 27) and celebrate the trailblazers of our time.Registration Closed