Enhancing APEGA's Member and Permit Holder Directory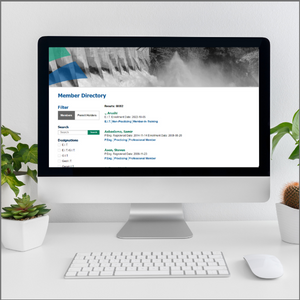 To further support APEGA's primary mandate to protect the public, Council approved an initiative to upgrade the APEGA Member and Permit Holder Directory. The upgraded directory will include additional identifiable information about APEGA members and permit holders—such as APEGA ID number and permit status—and have improved search functionality. This will make it easier for the public to locate APEGA registrants and verify their credentials.
Beginning in December, the following information will be listed in the publicly available directory. The newly included information is marked in bold.
APEGA Members
Permit Holders
APEGA ID Number
Legal First Name
Legal Middle Name
Legal Last Name
Designations
Member Type
Practice Status
Registered Date
Enrollment Date
Preferred First Name
Preferred Middle Name
Preferred Last Name
City
Legal Name
Operating As Name(s)
Permit Number
Permit to Practice
Permit Status
Address
Phone Number
License Issue Date
City
Postal Code
Province
Responsible Member
Last Permit to Practice Seminar Date Attended
You will be able to search the directory using any of the following terms:
APEGA Members
Permit Holders
Legal Last Name
Legal First Name
Preferred First Name
APEGA ID Number
Company Permit Number
Legal Name
Operating As Name(s)
If you have any questions or concerns, please email [email protected].
Want to Learn More?
Visit APEGA's definitions page for information on terms used in this news release.