APEGA Nexus Returns June 2022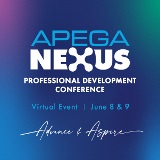 After a successful inaugural year, APEGA Nexus is returning in 2022. Join hundreds of engineering and geoscience professionals for two days of expert-led sessions on June 8 and 9. This year's conference hosts three exciting keynote presentations and 25 sessions across five streams—science and technology, practice and regulation, careers and employment, business and leadership, and research and innovation.

The conference kicks off with Col. Chris Hadfield's keynote presentation, Preparing for the Unexpected. On day two, Dr. Maydianne CB Andrade, FRCGS, takes the virtual centre stage and challenges the status quo with her presentation, Unconscious Bias and Challenges to Fair Assessment. Murray Smith wraps up the conference with Headwinds and Tailwinds, a discussion on the way forward for Alberta's energy sector while tackling the complexity of change.
Curate a Fulfilling Conference Experience
Build a conference schedule aligned with your professional development aspirations. With 25 sessions to choose from, you can expect to gain confidence in your career goals, understand professional requirements, update your technical know-how, and get inspired by industry leaders. Connect with attendees in the live networking events and exhibits in the virtual expo. Contact us to become a sponsor or to secure your virtual trade show booth.
Participate in the Expo Free of Charge
Are you interested in getting your work in front of hundreds of professionals? Submit a poster abstract—a 15-minute video or PowerPoint presentation—free of charge to be included in the poster showcase. The deadline to submit your poster is April 4. These presentations will be viewed by attendees throughout the conference and will be available on demand until Sept. 9, 2022.
Earn While You Learn
With so much great conference content, you won't want to miss a thing! We are giving attendees on-demand access to the sessions—excluding the keynote presentations—until Sept. 9, 2022.
That means you can earn over 50 continuing professional development hours, all at your own pace. Downloadable completion certificates are also available.
Take advantage of early bird pricing, available until May 2.
Do You Want to Attend APEGA Nexus for Free?