Neil Windsor: Remembering a Legacy of Progress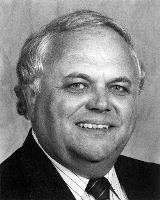 With heavy hearts, we recognize the passing of H. Neil Windsor, P.Eng., FEC., FCAE., P.E. (Hon.), FGC (Hon.), on March 28, 2021. Windsor's passion for the engineering and geoscience professions led him to APEGA in the mid-1990s as executive director and registrar, later serving as chief executive officer.
"Our deepest condolences to Neil's family and friends. An exceptional leader and professional engineer, Neil will be missed by many at APEGA," says Jay Nagendran, P.Eng., APEGA's Registrar and CEO.
Despite being offered a scholarship by Boston College to play for its hockey team, Windsor decided to pursue pre-engineering studies at Memorial University before completing his civil engineering degree at the Nova Scotia Technical College. He gained engineering experience in the construction industry before accepting a role with an engineering consulting firm. In 1972, he shared his love of sports with the people of Mount Pearl, N.L., leading the construction of a swimming pool and arena as the town's engineer.
Three years later, he represented the District of Mount Pearl as a Member of the House Assembly, which launched a 21-year-long political career as parliamentary assistant to the premier.
In 1996, Winsdor moved to Alberta to accept a position as executive director and registrar of APEGA, later becoming CEO. As CEO he prioritized increasing government relations and raising public awareness of the professions and their roles in contributing to the Alberta Advantage. He built relationships with industry and business groups, and other self-regulating professions in the province, as well as constituent associations across Canada and in the United States.
Windsor worked at APEGA for 16 years, retiring in 2012. He received APEGA's L.C. Charlesworth Professional Service Summit Award for his leadership, service, and contributions to APEGA and the professions.
"Neil increased the visibility of our professions immeasurably and enhanced the trust and social licence we have with the people of Alberta," says Nagendran. "We will always be grateful for his legacy of progress."