Voters Choose 2021-2022 APEGA Council, Support Virtual Meeting Bylaw Update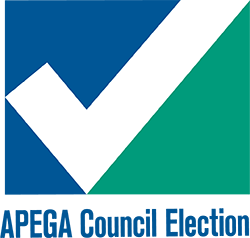 Voters have spoken in the Council election, choosing Lisa Doig, P.Eng.—a leader with experience across the energy sector—as their 2021-2022 president-elect. Doig will serve in the president-elect role for one year before becoming president for the 2022-2023 term.
The 2021-2022 incoming president is Brian Pearse, P.Eng., who was voted onto Council last year as president-elect. Joining him will be Manon Plante, P.Eng., who was voted in as vice-president for the 2021-2022 term. Outgoing President John Van der Put, P.Eng., will move into the role of past-president.
Four other professional members were voted in as councillors:
Claudia Gomez-Villeneuve, P.Eng. (re-elected)
Seema Makwana, P.Eng. (newly elected)
Tracey Stock, P.Eng. (newly elected)
Victoria Wishart, P.Eng. (newly elected)
Geoffrey Kneller, P.Eng., will serve a one-year term to fill the vacancy caused by Plante becoming vice-president.
The new president and councillors will be sworn in during APEGA's annual general meeting (AGM) on April 23, 2021. APEGA thanks outgoing councillors Jennifer Enns, P.Eng.; Tim Hohm, P.Eng.; and Walter Kozak, P.Eng., whose terms expire at the AGM.
The 2021 Council election ran from February 8 to March 11, with 10,505 members casting their votes—an 18.1 per cent voter turnout.
Members Vote in Support of Bylaw Update
In addition to voting on the Council candidates, 98 per cent of voting members approved an amendment to the APEGA bylaws authorizing that APEGA meetings, such as annual general meetings, can be held in person, electronically, or as a hybrid of both.
More information regarding the upcoming virtual annual general meeting will be available soon.