Engineers Canada Awards Prove Success Doesn't Stop at the Top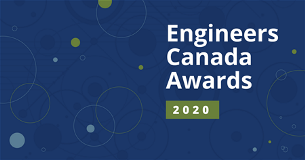 What do you do when you've reached the summit of your profession? For APEGA members Russ Wlad, P.Eng., and Clayton Deutsch, P.Eng., PhD, the answer is simple.
You keep going.
One year after receiving top honours at the 2019 APEGA Summit Awards, the two—along with six other Canadian engineers from or licensed in other jurisdictions—have been recognized by Engineers Canada (EC) for their engineering excellence and outstanding contributions to their profession and community.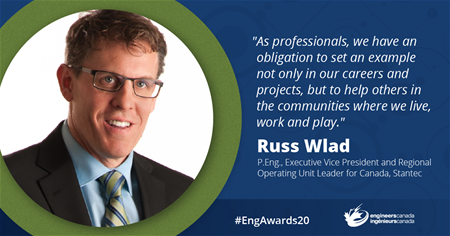 Caring for the Community
A key figure in central Alberta, Wlad received EC's Meritorious Service Award for Community Service. He has been a dedicated committee member for many successful fundraisers, raising more than $2 million for the Red Deer Regional Hospital Centre, more than $300,000 for the Canadian National Institute for the Blind, and more than $6,000 for cancer research. He has served on various boards, including the Canada Public Works Association and the 2019 Canada Winter Games. Currently an executive vice-president and regional operating unit leader for Stantec, he received APEGA's Community Service Summit Award last year.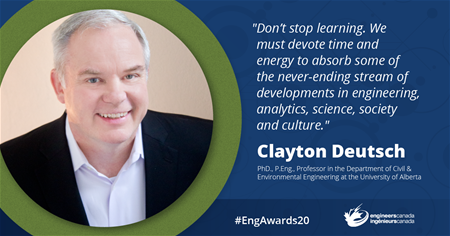 A Top-Notch Education

Deutsch took home EC's Medal for Distinction in Engineering Education. A professor in the department of civil and environmental engineering at the University of Alberta, he has devoted the past 25 years to educating the professionals of tomorrow. As an educator, his figures are astounding: he has supervised more than 60 graduate students, mentored 530 postgraduate students, and taught 166 courses all over the world. He has developed and delivered short courses, workshops, and programs in numerous countries, including the United States, Chile, Brazil, Australia, and Mexico. As an external advisor, he has worked with international institutions to build curricula to meet specific goals. Deutsch received APEGA's Excellence in Education Summit Award last year.
A New World
"This year's distinguished award recipients truly represent the transformative power of engineering," says Jean Boudreau, FEC, P.Eng., president of Engineers Canada. "As educators, innovators, and role-models, they are improving the lives of all Canadians and demonstrating how vital our profession is in building a better world."
In past years, EC award recipients were honoured at an in-person awards gala. Because of current recommendations by government and health officials to maintain physical distancing, EC is instead kicking off a month-long celebration online, during which it will be sharing the stories of the engineers' accomplishments through videos and posts.
You can read more about the awards on the Engineers Canada website.