Regulation Continues Through COVID-19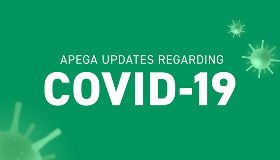 So much has changed since the outbreak of COVID-19 in our province, but one thing has remained the same: APEGA's important work as a regulator continues. Through the Engineering and Geoscience Professions Act, we exist to serve the public interest and hold our members and permit holders to high professional and ethical standards. We must ensure proper licensing and effectively continue all our regulatory processes through this pandemic.
As we settle into new routines, APEGA is constantly reviewing our processes to ensure we are adequately supporting our registrants, upholding our mandate, and following recommendations from the government and public health officials. Here are some important highlights about APEGA's operations during this time.
Updates
We have created an information page to keep you updated on changes made to APEGA's policies and procedures during the pandemic. You'll also find messages from APEGA's Registrar & CEO and answers to the most frequently asked questions. Topics include:
Dues reductions and deferrals
Continuing professional development requirements
Authentication and validation while working remotely
Applications
The Board of Examiners is meeting virtually to review and approve licensing applications. While this change in procedure may lead to slightly longer wait times, application reviews will remain ongoing. APEGA's regulatory processes will continue throughout this public health emergency.

Events
Currently, all in-person APEGA events that were scheduled through June have been postponed, cancelled, or moved online. Regulatory events such as Permit-to-Practice seminars are being assessed for online delivery. Full refunds have been automatically issued to everyone who was registered for paid events. If you have not received a refund, please contact [email protected].
For a complete list of APEGA webinars and online learning opportunities, please visit our events page.
Examinations
Due to COVID-19, disruptions to APEGA examination programs are occurring. The APEGA Examinations team will be communicating directly with those candidates impacted for each exam program.
If you have questions regarding the National Professional Practice Exam, email [email protected]. For all other APEGA exam programs, please email [email protected].
Investigations and Discipline
Investigations are continuing uninterrupted. We can carry out interviews using video conferencing or teleconferencing, which will be arranged on a case-by-case basis.
Any supporting documents for a complaint should be emailed to [email protected]. Due to APEGA security protocols, we cannot accept documents sent via file-share applications such as Dropbox or Google Drive.
Working remotely
The APEGA offices in Calgary and Edmonton are currently closed to the public. Staff members are working remotely and continue to be available by email and phone. We are monitoring voicemail and collecting mail during this time, though responses may be delayed. We appreciate your patience.