100th APEGA President Takes the Helm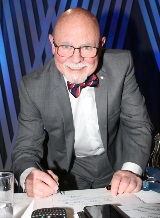 An experienced regulator, energy consultant, and board governance authority will lead APEGA into its centennial year as the association's 100th president. George Eynon, P.Geo., FGC, FEC (Hon.), said in his inaugural speech as President, on April 26, that "the public comes first because our mandate, under what is now the Engineering and Geoscience Professions Act, is to protect public safety and welfare."
It takes members, however, to put that mandate into action. "Several hundred licensed and registered volunteers serve on the various statutory boards and committees. They conduct the business of self-regulation. We couldn't call it self-regulation without them," he said. "I call this professionalism by peer review."
He continued: "Yet the public has little idea about who we are, what we do, and why we do it. We need to better communicate the role APEGA and our professional registrants play. This will be a key priority for us in our centennial year."
The AGM, held Friday, April 26, in Calgary, capped off APEGA AGM & Conference 2019, after a day and a half of professional development sessions and Thursday's Summit Awards Gala.
Currently the principal of an energy consulting firm, Mr. Eynon spent about two decades in oil and gas exploration and development. Later, he served about five years on the board of what's now called the Alberta Energy Regulator, the last five months of which he was a hearing commissioner. He has six years of experience on APEGA's Council and has served on a variety of APEGA regulatory and governance committees, including the Practice Review Board and the Geoscience Subcommittee.
Council Members for 2020
Joining Mr. Eynon on the 2019-2020 Council executive committee are President-Elect John Van der Put, P.Eng., Vice-President Tim Joseph, P.Eng., PhD, and Past-President Nima Dorjee, P.Eng.
Elected or re-elected to Council in 2019 were David Johnson, P.Geo., Manon Plante, P.Eng., Melanie Popp, P.Eng., and Jason Vanderzwaag, P.Eng. They'll serve with Councillors whose terms continue until at least 2020: Jennifer Enns, P.Eng., Darren Hardy, P.Eng., Tim Hohm, P.Eng., Walter Kozak, P.Eng., RaeAnne Leach, P.Eng., Bob Rundle, P.Eng., Claudia Villeneuve, P.Eng., and Emily Zhang, P.Eng.
Public members on Council, appointed by the Government of Alberta, are Mary Phillips-Rickey, FCA, and Georgeann Wilkin, RN, LL.B, MBS.