Inspirational Superstars Needed: Nominations Open for Summit Awards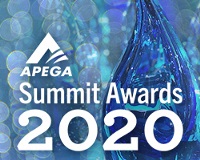 The time has come for you to nominate a professional engineer, professional geoscientist, or a project you believe worthy of recognition. Help us showcase the talent, dedication, and experience of the members in your community.
Nominations are open for the 2020 APEGA Summit Awards. APEGA turns 100 in 2020, so the Summit Awards will—as a highlight of our centennial celebrations—be even more special than usual.The Summit Awards recognize champions of Alberta leadership and excellence in the engineering and geoscience communities. APEGA selects up to 11 recipients from a pool of professionals and projects submitted by peers and colleagues. Honourees are celebrated for serving the public and enhancing the lives of Albertans and others by:
reducing environmental effects and advancing sustainable development
improving business effectiveness through new and emerging technologies
promoting outreach and diversity initiatives
being top-notch teachers and mentors
advancing research into new frontiers
demonstrating outstanding innovation and leadership
Submission deadline is September 15, 2019. To begin the process, read the guidelines and start your Summit Award nomination now. Choose an award category that best represents the candidate or project you have in mind.
Each award has its own nomination form and requires specific documents. You may pause your nomination by clicking the Save and Resume Later link at the bottom of the nomination form page.
There's no better time to honour standout APEGA members. Nominate your peers and their projects today!