Skilled with Bricks and Bones, Calgary Professional Engineer Nets Premier Summit Award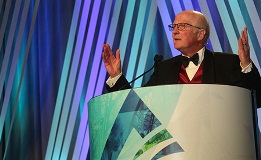 Few people embody the diverse nature of engineering research as much as the 2019 recipient of the Centennial Leadership Summit Award does. The association presented APEGA's most prestigious honour to Nigel Shrive, P.Eng., PhD, on April 25 in Calgary, celebrating a distinguished career that includes research of skeletal and cardiovascular systems—and masonry.
Dr. Shrive set a benchmark for innovation early in his career when, as a doctoral candidate at the University of Oxford, he invented an artificial knee that has since been implanted in thousands of patients worldwide.
Every day, APEGA members like Dr. Shrive discover, innovate, and make their marks on their neighbourhoods, their cities, and the world at large. And every year during our Summit Awards Gala, APEGA honours a selection of these high-achievers and their exemplary work.
Watch Dr. Shrive's award video
Celebrated in Style
APEGA officially celebrated this year's recipients before about 400 members and dignitaries at the 2019 Summit Awards Gala at the TELUS Convention Centre in Calgary, on April 25. Outgoing APEGA President Nima Dorjee, P.Eng., FEC, FGC (Hon.), presented the awards, one of the final duties of his term.
The awards night wrapped up the first day of APEGA AGM & Conference 2019. Lights atop the Calgary Tower marked the occasion with the green and blue colours of the APEGA logo.
Innovators, creators, mentors, leaders, and builders—these are just five appropriate descriptors for the Summit Class of 2019.
More About Dr. Shrive
Dr. Shrive has been involved with the University of Calgary for most of his career. He was the first non-medical professional in charge of the McCaig Institute for Bone and Joint Health. Now, he takes his place among APEGA's most distinguished members, having received our Centennial Leadership Award.
Community Service
Russell Wlad, P.Eng., received the Community Service Award for his exceptional fundraising efforts in central Alberta. He has raised money for the Red Deer Regional Hospital Centre's pediatric ward and the Canadian National Institute for the Blind, among other organizations. His generosity and community involvement have inspired his colleagues to get involved—Stantec's staff supports many charities and community events.
Watch Russell Wlad's award video
Early Accomplishment
The recipient of the Early Accomplishment Award evolved from eager student to the youngest executive of Canada's largest condensate producer in 13 short years. Jordan Johnsen, P.Eng., has played a role in Seven Generations Energy's burgeoning success: at a time when the economic downturn had all but stalled the rest of the energy industry, he oversaw departmental growth and the company quintupled production.
Watch Jordan Johnsen's award video
Excellence in Education
A professor in the civil and environmental engineering department at the University of Alberta, Clayton Deutsch, P.Eng., PhD, has achieved commendable student ratings and displayed a steadfast dedication to educating the professionals of tomorrow. He challenges his students to dive deeper, make connections, and offer innovative solutions, making him a worthy recipient of the Excellence in Education Award.
Watch Dr. Deutsch's award video
Outstanding Mentor
Ayodeji Jeje, P.Eng., PhD, is a professor at the University of Calgary with an amazing ability to connect on a personal level with students. He demonstrated his compassion in a large way when a student was involved in a devastating car accident. Playing a critical role in her academic success, Dr. Jeje visited her in hospital and brainstormed ideas with her professors to find ways she could complete classes between surgeries and write exams from her hospital bed. The recipient of our 2019 Outstanding Mentor Award, Dr. Jeje continually demonstrates unwavering encouragement and support.
Research Excellence
Decreasing the carbon footprint of Alberta's energy sector is crucial to its sustainability in a world demanding more eco-friendly energy-generation processes, and Nader Mahinpey, P.Eng., PhD, has established himself as a keystone in this endeavour. His leading-edge research programs are providing the groundbreaking innovations needed to design and commercialize successful carbon capture and conversion technologies. Dr. Mahinpey received this year's Research Excellence Award.
Watch Dr. Mahinpey's award video
Championing Women
The Canadian Coalition of Women in Engineering, Science, Trades and Technology 2018 Conference Steering Committee nabbed the Women in Engineering and Geoscience Champion Award for its unbridled success in organizing and presenting the CCWESTT 2018 Conference. The conference provided a space for attendees to discuss diversity and inclusion in science, engineering, trades, and technology. With the conference's success, the committee solidly increased the visibility of women in engineering and geoscience.
Environment and Sustainability
With a commitment to eco-friendly and sustainable building designs, Jeff Rent, P.Eng., plays a notable role in preserving the environment for generations to come. His projects have received provincial and national awards, and more than 30 of them have received Leadership in Energy and Environmental Design Certifications. And now, he has an Environment and Sustainability Award to add to the lot.
Project Achievement
Designed by Stantec, the North Red Deer Regional Wastewater System promises a cleaner future for communities in central Alberta. Completed on time and under budget, the system incorporates innovative approaches and leading-edge technologies to provide a modern wastewater solution while protecting a sensitive watershed. The system is this year's Project Achievement Award recipient.
Watch the North Red Deer Regional Wastewater System award video
Frank Spragins Technical
Rounding out the 2019 APEGA Summit Award recipients is Ian Gates, P.Eng., PhD, who took home the Frank Spragins Technical Award. Along with his renowned research group, Dr. Gates discovered how to transform heavy oil and bitumen into self-sealing pellets—their liquid core surrounded by super-viscous skin—that can be transported by truck or rail. This revelation potential game-changer for the industry.
APEGA has been presenting the Summit Awards every year since 1990. Nominations for the 2020 awards open in May.